Dear Yogis,
What can I say.  What a wonderful weekend.  We have had Fantastic Friday night and Saturday morning restorative yoga sessions.  Fantastic!!  We managed to pull together a unified and useful class which combined students who wanted stronger and students who wanted gentler, and everyone had a great class, especially me!  I am getting the hang of this yoga zoom experience, and really liking it.
I did have a teacher from a local school approach me who wanted me to do a class for 16.  I couldn't.  I love teaching yoga too much.  How can you actually really teach a class of 16 newbies to yoga on a screen, especially pre-teens.  I can't.  I love teaching yoga as if the students are in the room.  This requires attention.  Not casual attention, but real, in the classroom, in the moment attention.  That is why I just love my classes, because I can really teach… you all go with the flow.  If I change the pattern you understand there is a reason, and move along with me.  Thank you.
TODAY WE DID THE MAKE YOUR OWN TAROT DECK SESSION (We missed you! What was more important?).  This is a wonderful class.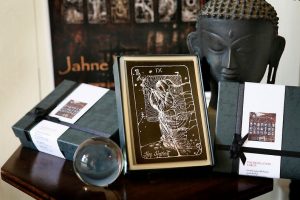 We are up to thinking about numbering, adding other collage details, mantras and so on.  These are going to be tarot decks that last the distance.  There is a lot to think about.   You might think it is just a matter of cutting out the cards and cutting and pasting, not so.  These cards when we are finished can be marketed… they are not hobby cards, though I am sure family and friends will want a copy.  I have made a lot of cards and books and you will find them on ETSY.  www.myyogabooks.etsy.com (look at tarot).  Not all my card decks are there. as I am making them all the time.
At present I am working on a new neck of MINDFULNESS ACTIVITY cards.  So many people want to get involved with mindfulness, want to slow down, but need a "tool" to help them.  This will be the tool they need… A pack of 12 cards, with activities in sensory awareness to slow you down, and at the same time give you an activity to concentrate on whilst you are sitting. I am sure it will be popular.  Of course there will be a book to accompany the set.
If you would like to make a card deck – tarot, mantras, activities, poetry, affirmation... any kind of card, you might like to sign up for the next three classes.  It is only $50 for a set of three sessions – go to the home page and follow the directions.  If confused email me at yogafirst@netcon.net.au.  You could think about the cards as miniature paintings or drawings.  Don't discount the mini course because of the low price – my students are getting wonderful results (as am I).  Please join us.  At the very least you will have a pack of cards that you can present to family and friends (Christmas isn't all that far away).
Sunday morning we are delving more deeply into the Bhagavadgita.  This morning we are looking at the verses about the Nature of God, and also the verses about THE NATURE OF YOGA.   The 'Gita which is perhaps the most read and most revered text in South Asia, teaches that the one Absolute God (Krsna) creates, maintains, contains rules and pervades ALL WORLDS.  Krisna Himself Says: "There is nothing beyond Me.  All this world rests on Me like peals strung on a thread".  In the 'Gita,  God speaks personally to Arjuna who represents us all, and in one of the only times in spiritual literature, shows Arjuna the extent of his power.  He says to Arjuna "Know me as the perennial seed (bija) of all beings".
Then we move on to considering yoga in the 'Gita.  Three times in the Gita, Krisna says of a person in a specific state of consciousness "that is yogi"..  Each of these verses describes a distinct qualification that enables a yogi to see self, God and other souls.  Buddhism, spiritual reason or discernment helps a yogi to properly see God, self and other souls.  A yogi is higher than one pursuing either knowledge or action.  We will consider the two famous yoga paths (karma-yoga and jana-yoga) , and what stands above them both.
The class is for two hours, and even if you are running behind, please join us… it will be repeated next Sunday morning as usual –  free, if you have paid for today's class.
If you want to know what classes we are doing, please go to the web site and look on the home page www.yogabeautiful.com.au.  Don't forget that our first class in MINDFULNESS will be this Wednesday at 6.45pm
I look forward to seeing you in class
NAMASTE – JAHNE