Dear Students, teacher, friends….
We have a lot of time now to do essential things, and explore things we have put aside until "tomorrow".  Well, you may have noticed, "tomorrow" has arrived.
Essential may be, planning (rather than fitting in) finishing some modules, exploring what is happening in your garden, and cleaning.  Yes, cleaning.  I am having a terrific time cleaning because I am exploring becoming a chemical free house, I was in part, but now I am looking under my sink and I am disappointed that to save time,  I have taken the "Coles" way of cleaning.  Change won't happen right away because I am not throwing out what I have.  I am just learning what to replace chemicals with.
I don't know if you have noticed, but even the basics costs more at Coles than they did a month ago.  Especially in the cleaning isle of the store.  I did notice that they have Washing Soda at $4 a kilo – you only need 2/3 of a cup to make quite an excellent liquid laundry detergent, with baking soda, liquid soap and water (and a few drops of essential oil).  The cheapest liquid clothes detergent you can buy now in Coles is now $2.80 (was $2.30).  You should be able to make this for under a dollar.
Guess what.  If you have children, they will love helping you make cleaning products, and they will be more enthusiastic about using what they have made.
I know I have grumbled about my mother, but I can tell you that here was a lady who could do a whole lot with almost nothing (and she could also slice a dollar three ways).  It was mum and my Aunt who taught me how to "wet clean" and my grandma who had been a "tweeny" who taught me how to correctly use a broom and vacuum cleaner.  Yes, there is a correct way!
Replacing almost every cleaner in your cupboard as far as I can tell involves only five ingredients 1. Bi-Carb, 2, vinegar, 3. hydrogen peroxide, 4. liquid soap and 5 Essential oils.  (I bet you already have them).  The only thing you need to know is how to mix them, and how to apply them.  Everything to clean your Kitchen, to bathroom to windows, fabric, even air fresheners… everything is built around these products.
You can also tackle the garden.  My neighbours often come in and ask me about getting rid of aphids, slugs and snails without resorting to purchasing stuff at the Produce Store that can kill animals and small people.
One thing this change over will take more of in the beginning,  is time – time to make, not time to do.  Once you have got it sorted, it will be quicker, and certainly cheaper.  You will have to invest in some spray bottles of various sizes, but this won't cost much in comparison with what you will save.  And you may save a life by eliminating chemicals.
I can't help you write your modules, but I can help with all of this.   Log on to www.wildnweedy.blogspot.com.  As I get organised I will put recipes up there for you to get started with.
I almost forgot – here is an angel… it is the month to work with Archangel Michael (who knew?)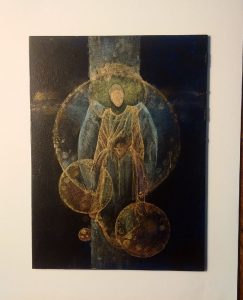 STAY WELL, STAY WARM (AND DRY)..   NAMASTE – JAHNE.