THE AUSTRALASIAN YOGA INSTITUTE IS MISSION DRIVEN AND MEMBER SUPPORTED. BECOME A REGISTERED MEMBER TODAY.
You will notice the word MEMBER in the heading…especially for trainee yoga teachers and graduates –   making a standout difference between students who only come to class who get a newsletter just for them.  We are also trying to make sense of our emails and phones – it isn't simple.  Please transfer all your account queries to Jacky at yogafirst@optusnet.com.au If you want a direct answer from me, then as usual, yogafirst@netcon.net.au.
MY MARK
You will notice at the bottom of my paintings a red ink stamped mark which is almost more important than the painting itself… certainly to me. It is the mark of a crane's foot in the sand.
The Aztecs called themselves "The Crane people". One of the Anishinataabe clan was named "the cranes" – Ajijak or Businassee – the Echo makers. The Crow and the Cheyenne peoples carved cranes leg bones into hollow flutes, echoing the Echo maker.  In Africa, the crowned crane ruled words and thought. We are told the Greek Palamedes invented the letters of the alphabet by watching noisy cranes in flight.  In Persian kurti, in Arabic ghurnuq the bird that awakens before the rest of creation to say their dawn prayers. The Chinese xian-he, the birds of heaven carried messages on their backs between world.  Cranes dance in southwestern American petroglyphs. Old Man Crane taught the Tewa to dance and the Australian Aborigines tell a story of a beautiful and perfect dancer turned by a medicine man into a crane.
Apollo came and went in crane form – and so the stories of the crane go on through the history in story of the world. Tecumseh tried to unite the scattered nations under the banner of Crane Power, and in time, the Hopi mark for the cranes foot, (similar to the little red stamp I sign my work with), became the world's peace symbol.
Cranes help carry a soul to paradise. In Japan pictures of cranes line the windows of mourning houses, and crane shaped jewellery adorns the dead. Cranes are souls that once were humans and will be again. Or humans are souls that once were cranes and will be again.
Something in the crane is trapped halfway, in the middle between now and when.
YOGA AT the Church
This group is stabilising.  I am looking forward to more joining.  We have also been asked to start a new group in RIDDLES CREEK.  This will be wonderful, as it also has a labyrinth attached.  people can do yoga, have lunch and then, walk the labyrinth.   WE do what we can with what we have, where we are (as the Buddha says).  When we do that, when we do what we have been given with passion and care, then, we are given a bigger picture.  But we have to start at the beginning… not at the end.  We have to start in the 'mail room", not in the Director's Chair.
STUDIO YOGA CLASSES .
I now have classes I have had to close as they are full  –  Wednesday at 5.30 and Saturday at 12.30.  No new students possible.   We have changed (due to demand) the Wednesday 12.30 class into a RESTORATIVE CLASS.   So there are a number of classes that are possible if you are not a "regular" at Wednesday at 5.30.   Monday and Friday at 5.30, and the new Wednesday 12.30 Class.  Your choice.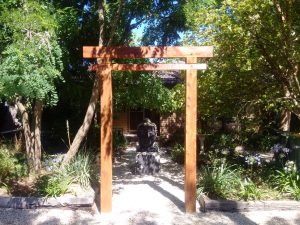 Please keep in mind that the consecutive class passes are CONSECUTIVE. I love a phone call to alert me if you can't come, but that does not mean that the pass will extend for one extra week free. CONSECUTIVE IS CONSECUTIVE.
This long weekend three of my miniatures will be shown at The Woodend Art Group annual pre-christmas sale. The three that I have included are VAN GOGH'S CHAIR, GAUGAINS CHAIR, and a KLIMT. I am also having a showing of my work at my home gallery/studio on the 25th of November between 2pm and 4pm. If you are interested, please email me and let me know your interest. I even have had people come up to me in the supermarket and at church to let me know they are coming… Just keep an eye on the NEW web site www.jahnehopewilliams.net for their progress.
WORKSHOPS:
*Tuesdays: 7pm to 9pm:   The usual painting class – everyone welcome
*November 3rd to December 8th: Saturdays for 5 weeks.   Tempera on board
*November 18th: Sunday At the Studio. Make Art Make Yoga Make Money – Take Control of your art, your yoga and your bank balance
*December 9th: Sunday Tempera painting Workshop.
*January 13th to March 3rd: Sunday 11.30 to 2pm Make Art Make Yoga Make Money
Web site: www.jahnehopewilliams.net
Email your interest to: yogafirst@netcon.net.au
If you want to learn on a regular basis….Experience the joy of painting and drawing by learning to trust your intuitive self with me!. Painting this natural, gentle way allows you to let go of the inner critic that keeps you away from your full aliveness and creativity. The oil pastels are a way of achieving a quick result, and you get to touch and smooch the medium across the paper. It is like painting with lipstick!
All you need is the desire to paint, and the courage to express yourself. No art experience necessary.
TUESDAYS from7pm- 9pm
COST $250 for 5 classes – we are taking September bookings. We experiment every week with new materials and skills to enhance your finished image.
All materials will be provided.  By the end of the class you will have a unique image to take home, and frame to put in your own meditation room. Maybe good enough, stunning enough to be an heirloom. No painting experience needed. If you are nimble enough to sign your own name, you can do these classes.
SATURDAYS 9am SUMII (ZEN YOGA) BRUSHPAINTING – "ONE BREATH ONE LINE" $20 per session.     This is the traditional painting on rice paper, but once the fundamentals are achieved, with a twist. On the longer classes, we will be doing it the "zen way" and painting things that can't be painted. Love, joy, yoga, spirit, speed…etc etc.   No right, no wrong, just what you can do. Your expression. We will be using traditional materials, we will be doing yoga breathing, AND A PAINTING will be the result.. Grind the ink, use the brush, paint the painting….. Sounds easy, BUT as in yoga, the foundations are everything.
SCULPTURE REQUEST: I have let it be known that we are looking for a sculptor or an iron worker/blacksmith. THE BLUE LADY totally shattered in the cold this year, and as she was our logo and a landmark in our town for 25 years, I am trying to replace her in some way. I have been donated an almost full size Jesus statue (concrete – probably rescued from an old catholic grotto) which I am going to paint in cobalt, and decorate in interfaith symbols ("OM" being one). The sculptor needs to build a frame to raise and support this very heavy statue. No crosses – Jesus has been there and I don't want to send him back. If you are interested in tendering for this job, please email me at yogafirst@netcon.net.au. No scribbles on the back of an envelope please, this is a serious job, and I want to know everything about how you would execute the brief.
FELTING.
Below is a notice for a felting class to be held by The Woodend Art Group.  Christina has visited and taught there before – so if you want to learn, she is a great teacher.  You can make enquiries and book when you come to the Art Show over the Long Weekend.    The Woodend Railway Station.
THE LATEST ART SHOW:
PRIVATE VIEWING of my art, at my studio(37 Morris Road, Woodend)  on Sunday the 25

th

November between 2 and 4pm.

This will be the first time in years I have held an exhibition in my studio..   It will be just like a European "vernissage". My work, a private view with nibbles and champagne. An art "happening" in the comfort of my studio. Come along, have a look at the artwork, spend time in the garden. A beautiful afternoon talking art (and yoga). If you are interested please contact me. It is a small studio, and the viewing will be by invitation.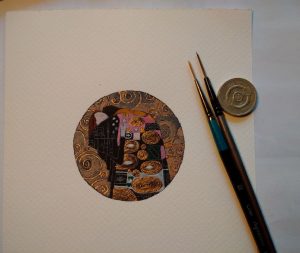 MY PENDULUM (and/or THE TAROT) 
My ETSY shop sells everything pendulum and this week I am putting up some new pearly ones. You will love them. Pendulums you can carry with you at all times.
YOUR SESSION: We can identify additional minerals and supplements, balance your diet, test for food sensitivities…. Health, business whatever. $55 one question, $75 two questions $150 for a general life reading for people who are stuck. On the farm I never made a change without dowsing first..
If you want a life reading, your house made well from underground streams or geopathic stress, or want your garden explored for sculpture, rock or major tree placement sites… I can help you.
If you want a lovely pendulum I have made a few very interesting, unique pendulums and have put them on etsy. www.myyogabooks.etsy.com
KOMBUCHA CLASS.
The popularity of Kombucha is not waning. I take a bottle or two to the Monday Lunches, and always have a volunteer to take home any leftovers. It is so easy to make I don't know why all of you have decided not to do it. Some folk say they don't have time. You could do it whilst you are making yourself a cuppa. It is the same method. Make tea, dissolve sugar. The Scobie does the rest. All you have to do is wait until the bubbles form, and then repeat the process 2 or so weeks later. How hard can it be..,I have a largish book on making Kombucha on the Web. Please go to www.myyogabooks.etsy.com if you want to know how to add crystals, herbs and flowers to your brew.
Why Register with THE AUSTRALASIAN YOGA INSTITUTE? 
It is about LINEAGE. You trained with us, you are a part of our lineage (or we are a part of yours), Registration supports this. PLEASE, PLEASE CHECK YOUR REGISTRATION. You need to be currently registered for your insurance to be valid, and you will need to supply a copy of a valid registration to be insured.   Please check your insurance requirements – keep up to date. They change quickly.
REGISTRATION – CONTINUING EDUCATION REQUIREMENT.
THIS APPLIES TO EVERYONE.
We have fallen in line with other organisations and ask people who are registered with us and wish to re-register to do at least one short course in the year as a continuing education requirement. You need to keep up. You can do one of my little courses on ETSY, or someone else's, doesn't have to be onerous, just something to keep you on your academic toes so to speak. Just watching a DVD won't be enough unless you actually write a report on what you watched and why you watched it – the outcome – how it changed how you do what you do.
YOGA WITH JAHNE…..CLASS TIMES – all STUDIO classes $20
MONDAY:                                     Church:11am Hatha.12pm lunch/1pm meditation (free or by donation)
                                                          5.30 NEW CLASS! Restorative at the Studio             6.30pm Hatha at the studio
TUESDAY:                                      7pm painting Class held at The Home Studio.
WEDNESDAY:                              12.30 NEW – RESTORATIVE.
5.30pm Gentle Restorative at home Studio.                          6.30pm Hatha at the home Studio.
FRIDAY:                                         3pm at the Church
5.30 Restorative then 6.30 pm Hatha at Studio
SATURDAY                                    9am Sumii ZEN YOGA PAINTING (60min Class), $30 per class, 10am Hatha Yoga.   12.30 Restorative.
YOGA COST:
Yoga $20 per Class Or CLASS PASS – $135 per 10 CONSECUTIVE classes for long time students. New students will pay $165 per 10 class pass (normally $200) After 3 years as a student with us, the cheaper rate will apply. Teacher Training is also $20.
UNITING CHURCH CLASSES (FREE or by donation)
Next door to the Police Station, Forest Road, Woodend.
Monday: 11am Hatha Yoga, 12noon lunch and 1pm meditation at Church.
Friday: 3pm Hatha Yoga
PARKING HOME STUDIO – 37 Morris Road, Woodend.
PLEASE, PLEASE Park on white gravel in front of the studio. I had the garden made into an attractive parking lot. When it was lawn you didn't even think about parking on the lawn or the nature strip. Now it is especially for parking, you park blocks away and walk. What is this about? If my park places are full, you can park in the drive-way directly opposite in front of double grey garage rolladoors. Not in front of neighbours driveways please.
MONTHLY TEACHER TRAINING AT THE HOME STUDIO:
The next one will be on Sunday 4th November , 2pm to 4pm  at my home studio (37 Morris Road in Woodend – yes, it is Cup Weekend – but I am still having Teacher Training). There is no need to book. Bring writing materials, and be early. If you are teacher Training student then the cost of the afternoon is $20 (to bring it in line with yoga classes). This fee applies to everyone. If you are a visitor and not formally a student teacher with us then the cost is $30 – for a 2 hour class! Come.
THE DECEMBER TEACHER TRAINING WILL BE THE TIME WE AWARD THE SPECIAL CERTIFICATES FOR THE YEAR.  THE OSCARS….  "THE BEST OF THE BEST AWARDS".  BEST STUDENT, BEST DISTANCE ED, BEST ENTREPRENEUR, BEST PHILANTHROPIST.   WE WILL ALSO TAKE THE OPPORTUNITY HAVE A LITTLE BIT OF CHRISTMAS – CHAMPERS, MINCE PIES ETC.
BENDIGO Teacher Training classes – Next class is Tuesday 6th November at 3.30pm Turn at the Metricon building on the highway in Kangaroo Flat. It is a traffic light intersection, just up from Bunnings. Crusoeden is the building behind Metricon building, and faces Church Street. It's easy to find. Cost: $20 per class (to bring it in line with the cost of a yoga class) for everyone who attends – thank you. (Directors – Jayne Boyle  – crusoedenbody@bigpond.com).  Regular classes held – please email for timetable.
UNHOMOGENISED AHIMSA MILK
If you are REALLY into great yoghurt, cream, butter or cottage cheese (and milk of course), then go no further than MOTHERCOWDAIRY run by the Hare Krishna people. The milk comes from totally free range cows, it is hormone and antibiotic free, is rich and creamy, naturally high in A2 and calcium and is a fair-go for local farmers. For your local stockiest, email: info@mothercowdairy.com.au
CALCIUM WITHOUT PILLS
Of course you could use the milk above, but if you are milk-free, here is an idea that came out of our discussions on Sunday Teacher Training.
Get a jar, and put a few eggs in the jar (4 perhaps?) cover the eggs with fresh squeezed lemon juice. Leave it for a week or so, turning at least once a day, very gently. The shells will dissolve somewhat (leaving the eggs intact). After a week or so, gently pour off the lemon juice, and use about 15ml perday in a drink – your total calcium requirement is in this lemon/egg shell juice. You can use the eggs in cooking.
REALLY HELPFUL BOOKS:
ETSY, ETSY www.myyogabooks.etsy.com
I write books to help you in your course. Please download them, and then please use them in answering your modules. WATCH OUT FOR THE NEXT ONE – NARRATIVE MEDICINE. A certificate course. If you teach yoga, you need this. No excuses.
Chakras – Your personal power house.Yamas – The guide for life * Restorative Yoga * Yin Yoga and Yin Yoga for KidsRed String of FateChakra Enhancing oil
Rose Petal Jam – a Cookbook * How to be a Yoga Teacher by Home Study * The Sacro Cranial Connection * Tea leaf Reading – The Chart * Yoga for pregnancy * 5 ELEMENT YOGA (The 5 Tibetans) + charts   *  SacroCranial Connection * and more….
Please never imagine that I don't read your modules – I do. If you misquote, if you don't understand (no matter how many pages you do) I will pick it up. What will you find on ETSY? YAMAS, CHAKRAS, HYPERMOBILITY, THE FIVE TIBETANS AND TEMPLATES and more. There are lots of books there to help you in your progress to graduation. If you do your course WITHOUT reading the hypermobility books, you will find your work being questioned.
EMAIL/POST:  Please use the email address  yogafirst@optusnet.com.au  for anything to do with accounts,  or the usual yogafirst@netcon.net.au. to get to me. If you do want to speak to me personally, then email, make a time suitable for both of us, and then we can chat.  If you do it this way, rather than just "wing it", you can be reasonably sure I have time, and you will get my attention.  POSTAL ADDRESS is not at my home –Please address all land mail to PO Box 14, Mt.Macedon.  Vic. 3441.  Until you see a change written here in large letters, that is where it will be.
Don't forget to Register if you are teaching even if you have not graduated (especially if you have not graduated), insure and re-subscribe to the videos every 12 months.   Don't leave these to the last minute.
Love and Blessings
Jahne…….
Newsletter sent out by The Australasian Yoga Institute, www.yogabeautiful.com.au