Good morning yogis (or good afternoon),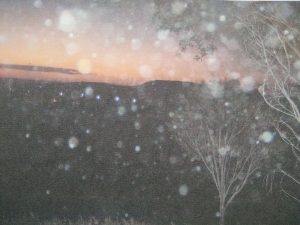 Another wet day in Woodend, but if you live in NSW you are learning the real meaning of "100 year flood line".  I once wanted to build a toilet block on my farm and I had to provide details of the 100 year flood marker before I could build.  I thought it was a strange ask, but maybe I was wrong.  I was in America after the floods resulting from the hurricane Katrina, and our students have weathered floods in Euroa some years back.  Many of us have dealt with catastrophic fires.  In this country we know about the results natural disasters.   Today a number of our students are suffering the floods in NSW.  We are thinking of you guys.  Please touch base, email me.  The photo is of orbs across a mine cutting through a sacred aboriginal site.  Not all disasters are "natural".
ZOOM/STUDIO DETAILS (plus new classes)
FRIDAY: ZOOM 5.30 STUDIO HATHA YOGA CLASS (starting April)  6.45 FREE TAROT/PENDULUM CLASS
SATURDAY: ZOOM 2pm TAROT/ART CLASS
SUNDAY: ZOOM 10am GITA CLASS
MONDAY: STUDIO 1PM HATHA YOGA CLASS/6.30PM ZOOM FREE BREATH CLASS (we examine breathing, eating and diet, moving, and living)
TUESDAY: ZOOM 7.30PM  RUMI CLASS
WEDNESDAY: 1pm STUDIO YOGA CLASS (starting April) 5.30 STUDIO YOGA CLASS
PLEASE BOOK WITH ME IF YOU WANT TO COME TO THE YOGA CLASSES: email yogafirst@netcon.net.au
REAL YOGA, REAL FOOD, REAL AGEING
Yoga isn't just asanas as I have said many times before… it is about EVERYTHING.  Yoga is the BREATH, yoga is what you EAT, yoga is how you MOVE (not just in class), and yoga is about HOW YOU LIVE.  If you live well, if you truely embrace yoga, you will live a fabulous life, and I think I am a good advertisement for yoga having now lived a yoga life (sometimes well, sometimes less well) for a very long time.
Here I am in my mid seventies, and I am enlarging my practice to pre-covid levels, but better.  I am feeling fitter, and ready for what happens in the future.  I am loving it.  Things will always get better but they will never be PERFECT – I think this is the message we all need to hear.  It is not just about doing yoga, IT IS ABOUT WHAT DOING YOGA MAKES POSSIBLE.
WHAT IS POSSIBLE FOR YOU?  Is it about making a commitment, and actually coming to a regular zoom class?  Is it deciding that one yoga class per week isn't enough (it isn't).  Is it about taking on a further education course with me, or exploring new ways of doing things, thinking things?  Is it about getting involved in your community?
For me, I am working across the spectrum.  I have gone from 55 years a vegetarian, to an occasional meat eater, to a vegetarian, to now, mostly vegan/raw food.  But in a relaxed fashion – it works for me. I am opening the door to more students and more classes, with a new improved and (slimmer) fitter me (as one student said "that's a worry!).  I cycled for two hours on maximum incline on my mini bike yesterday – And did a massage after that.  How good is that!!!  Did you know that the Roman Gladiators were VEGANS!  Who would have thought that.  Who else is vegan?  Arnie is, Scott Jurak the marathoner, Serena Williams, Bruce Lee, Murray Rose, Carl Lewis and so many more top athletes you know and admire.  You don't need meat – Protein? Eat broccoli instead to supply you with protein.
The worlds greatest weight lifter was asked what meat he ate to make him as strong as an ox – he replied "I am  a vegan – Have you ever seen an ox eat meat?"  Oxen, horses, elephants, hippos, the great apes – all the super weightlifters of the animal kingdom get strength from plants…. they don't worry about protein.
NOT "THE MEDICAL MEDIUM" and you don't need to be one to eat better, and live better, although the word "medium" has mystique.  You can be a medium for yourself and use a pendulum, but you don't need to in order to make better choices.  Even if you are not worried about the planet, worry about your health and the health of your family.
TO help or change – REMEMBER – I am still available for MASSAGE SESSIONS (LOVE THEM), TAROT READINGS (STUDIO OR ZOOM), AS WELL AS THE NEW YOGA CLASSES.  PLEASE BOOK AND COME TO SEE ME.  I CAN EVEN HELP YOU FEEL FITTER, STRONGER AND CALMER BY INCORPORATING A GOOD DIET INTO YOUR YOGA LIFE.
"Real Yoga, Real Food, Real Ageing".  MAKE YOUR LIFE A MASTERPIECE!
SEE YOU SOON.  IT IS ALL ABOUT YOGA.
NAMASTE.  JAHNE