Hi there aficionados, 
I have been handing out bags of green walnuts to you all for the last month, hoping that like me you will pickle them (they are so easy).  Bottles of these treasures are exceedingly expensive, don't know why.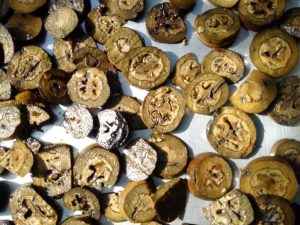 They probably don't look gorgeous to you, but to me, this is a treasure.  They are drying in the sun – they go black which is why they are called BLACK PICKED WALNUTS..  Next step, is to pop them into jars with pickling spices and then just try to leave them alone for about a month or so until the spices seep into the flesh.  They are wonderful with cheese and biscuits…  If any of you haven't pickled yours yet (maybe don't have the few moments it takes), you can always hand them back – I can use them for Walnut Sauce.  This sauce was mentioned in the novels of Charles Dickens.  It was highly prized even then.  If you have a walnut tree, please bring a big bag of green walnuts for me – the ones about the size of a small plum, very green and hard.  You can always leave them on my doorstep.
The next "exotic" nut to come along will be acorns.  Because I will have lots of parsley greens, dandelions and lots of borage to make tabbouleh I will use acorn grits instead of cracked wheat.  Easier to obtain, and much tastier – but first you have to make it!  "Gather ye acorns whilst ye may"!
LUNCH AT MT.MACEDON HOTEL.
I have made a booking for the first of our lunches for 12.30 (not 12 noon) at Mt.Macedon Hotel on the 28th of February.  So get out your fancy hats and come along.  Everyone welcome.  I have booked in what they call "The Garden Room" in the summer (it is "next to the fire" in the winter).  I am looking forward to seeing you all again, even if you don't get along to the yoga class.  Can you bring boyfriends/husbands.  Sure.  Children/Grandchildren – I would rather you didn't.  We go to lunch to remove ourselves from these responsibilities Yes?   See you there.  No need to book, no need to email.  Just come along.  It is quite informal.
YOGA classes
All my classes are on the web site.  Please remember that the 10 class passes are CONSECUTIVE.  That means that even if you don't come, you still pay.  It is the only way I can offer such good prices – I have expenses too.  If you know you won't be regular, pay by the week, and hope that your class doesn't fill with pass holders who have paid for their place up front.
PENDULUMS and THOSE WHO HAVE "CROSSED OVER".
I have been making pendulums, doing tarot/pendulum classes, and have recently done a "John Edwards" when a client asked me to help her contact a relative who had "passed on or crossed over" .  They are euphemisms, we could say "died" but we usually don't.  It was very a interesting experience.  I had done this for myself, but I had rarely opened this up for others, except when it happened spontaneously.  Doing this way means that if they have another language it doesn't matter – we all speak the same one. The first one I did was for a Dutch lady, which was great fun.    So, if you want to have a conversation with someone who was near and dear to you, come see me.  We will both learn something.
PENDULUM/DOWSING MEET-UPS
I would like to meet once a month to network and learn from people who are dowsers, or who want to learn.  I thought a Tuesday evening between 7 and 9pm once a month would be terrific.  Please email if you would like to join me at the yoga studio in Morris Road, and which Tuesday in the month would be suitable on a regular basis.  First, Second etc….
To email:  yogafirst@netcon.net.au
Looking forward to our lunch.
Namaste.  Jahne