Dear Yogis,
The "temporary imprisonment" no matter how mild has ended for the time being.  I was not looking forward to visiting Woodend this weekend, especially as it was a holiday, but thankfully it was not a popular tourist destination this time around – or at least when I was there.  I got a car park easily, didn't have to stand in line anywhere I went, and remarkably I noticed that there wasn't even a line outside the ice-cream shop.
SCHEDULE FOR THIS WEEK
ZOOM: Friday FREE Tarot Class 6.45, Monday 6.30 Teacher Training, Tuesday?
STUDIO:  Wednesday 5.30, Friday 5.30pm (a class for guys), Monday 1pm, Wednesday 5.30
HERB CASTING…..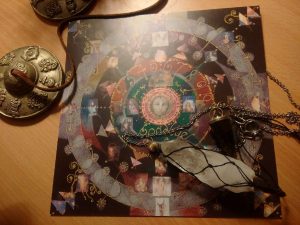 As you know I have been gathering herbs (although it is later than "May").  Once you have the herbs and florals you can make many things, you can also cast spells.  
When we do this, we are simply endeavouring to influence the future.  The spell creates an energy form, and as we yogis know – energy in any form EXISTS.  This "spell casting" is extremely useful when we want to influence the atmosphere of a place where you are going to be, or to avoid casting your fears about what is to come into the the future.
Creating energy and sending it in the future is something we all do unconsciously.  Spell-casting is taking this intention and making it conscious.  Even if you believe that your single-mindedness will see you through to your goal, I wonder if you could consider another way.  Perhaps you could even choose a bigger goal.  Then use herbs, colours, candles (whatever) to bring it front of mind, allowing it to manifest in a way that is much bigger…..
I am putting together a magical box of herbs and goodies designed to help you work with the power of tea herbs for manifestation! This lovely box of herbs with comes with instructions so you will be able to weave a spell or two when you are so inclined.   Spells to Release procrastination, Increase possibilities, Increase personal power, Releasing or softening fear… and so on.  Of course your pendulum will help you choose and understand the path you have carved for yourself.
Remember… POWER IS NOT STUFF.  Real Power is personal creativity and the ability to enjoy it (think "Purushatras").  Real power is doing what you have been called to do and living prosperously with it.  Power is not about being able to influence others, it is the ability to influence your own life in a positive way.. when you can do this, others in turn, will be drawn to your power and influenced by it, within their free-will and yours.
You can control how power flows from you, and how open you are to its source.
Powerful people are complete within themselves.  They don't fear much and are certainly not motivated by it.
I will see you on the mat .
JAHNE
(The Witch Is In)