Dear Yogis,
Tomorrow morning is going to be a busy one.The TEACHER TRAINING AT 10am so I am getting a head of time and doing the newsletter now – The topic for the class is THE BHAGAVADGITA AND THE BIBLE.  I guess you don't think there are similarities, but believe me there are.  You only have to read "LIGHT OF ASIA"the poem by Sir Edwin Arnold to know the similarities.
The Bible is a little more obscure… but we will get there I assure you, with a few side trips as always. Parmahansa Yoganansa was a Christian Yogi as is Thitch Nat Hahn and many more.. I am not sure about Deepak Chopra.  There is no conflict.  Buddhism is a philosophy not a religion.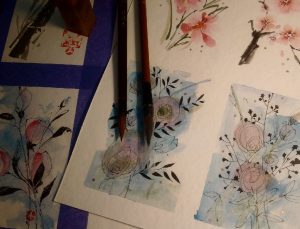 IT'S Saturday as I write this:   and I have just finished a fabulous TAROT (MAKE YOUR OWN CARDS AND PENDULUM BOARD) CLASS.  I know that is a mouthful but everyone is doing something different, so we have them altogether sharing techniques, and how-to's.  It is fabulous,  and the things that are coming out of the class are fantastic.  You should join. In the one class some are doing Sumi brush painting, some are making boards and cards, some learning to Zen doodle and use watercolours….  what will you do?
Soon we are going to make pendulums and mala beads, but we have to finish making the boards before we can start those.   If you want to buy a board made by me and ready to use, please go to www.firstmountaindowsers.com my new website to dowsing and the arts… You can always go to Etsy for a look at everything I sell – only the dowsing things are on the new site, and not all of them yet.  www.myyogabooks.etsy.com
DOWSING..
I use my pendulum to determine vitamin dosages, gardening questions, repairs, what to pay and when… things you wouldn't think about,  things you might ask your accountant or partner.  Once you have identified your personal coding system you can then test yourself for food sensitivities, balance your diet and much, much more.  You could look for vitamin and mineral supplements which through dowsing,  your system will tell you are required. Much like kinesiology.
These are the words of Louis Pasteur on his death bed (spoken in French probably) "I got it wrong. The microbe is
nothing, its environment is everything".  He realised that in times of plague, not everyone got the illness.  He had realised that the people mattered, and the various different environments that they presented to the microbes was important.  Dowsing can help you by keeping you tuned in to HOW THINGS ARE and  is a bridge between the logical and the intuitive mind.  
If you keep yourself firmly grounded then dowsing is safe and if you don't swan off in flights of fantasy,  dowsing can be an invaluable skill in helping us to live our lives more fully. Dowsing can tell us how things are.
Dowsing can revolutionise your life and help you to heal in a way you never expected, bringing you more and more in tune with the universe.  It is entirely possible to change the only being over whom we have total control over –  ourselves.
SEE YOU IN CLASS
NAMASTE – JAHNE