Dear Yogis,
The ZOOM MODEL is winding down for our yoga classes as we are getting back to STUDIO yoga, even with only three students per class.   To respond to this need to get back into the classroom (for me too), I am putting on a later YOGA (YOGA-LATES with weights and bands) class on Monday evening at 6pm.  The new requirements re props, payments etc,  for all classes can be found on the home page drop down "CLASSES".
If  you think this time would be better used to extend the TAROT/PENDULUM classes (and you are able to join me)  I will do this.  You choose.  YOGA OR TAROT.
Please indicate your interest by emailing me at "yogafirst@netcon.net.au".
A NANNA NAP

We are coming out the other side of COVID (we know it isn't over), and we have been burning the candle at both ends taking care of everything all by ourselves – I don't think we are all Kim Kadashians who said that this was the first time she has had to look after her own children all day!  However, you need a break,  and a Nanna Nap may be just the ticket.  MAKE THIS LITTLE SIGN AND HANG IT ON YOUR BEDROOM DOOR WHILST YOU CREEP IN THERE FOR EVEN HALF A HOUR. (I have been decluttering and found this page among my things destined for the bin – I reconsidered…)
Use these words on your sign….."HI, I am currently experimenting with the concept of siesta.  Therefore any issues no matter how important, will have to wait to be brought towards me between  ……………  If I like this, I will start doing it every day.  PS: A light lunch would be great when I wake up.   THANK YOU FOR YOUR ATTENTION".
YOUR FRIEND.
"A friend in need is a friend in deed" and my pendulum is that.  If you want to begin using a pendulum and don't have one, or a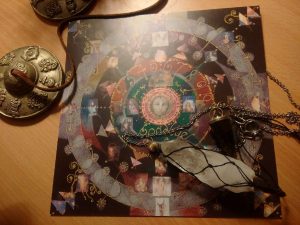 board (which brings it to mind), please come to the FREE FRIDAY class at 6.45.  I have found a wonderful local printer and photographer who will be handling the reproduction of my boards.  This will bring the price down too… and I have decided to focus on the medium and small sizes..these are the ones that I use every day.   Just email your interest and I will send one to you.  Go to www.myyogabooks.etsy.com to find one for yourself.  The post is getting better and I can get one just for you to you super quick (in comparison to the Covid Post)…  Plus, I will be loading more.
I WILL SEE YOU ON ZOOM OR IN THE STUDIO
NAMASTE – JAHNE