Dear Yogis,
Before you start launching yourself into problem discussions about Covid and vaccinations… think on this.
If you want to become an AMBULANCE DIVER (they recently advertised their DiplomaCourse)  with the Ambulance Service in Victoria, there are certain proofs you will need before you can start the course.  One of these proofs relates to vaccination.  To begin, you will need……Proof of vaccinations for COVID-19 (fully vaccinated), current Influenza (within the last 12 months), Hepatitis B, Varicella, Pertussis, Measles/Mumps/Rubella, with serology report (required before commencing observer shifts).  
This is quite a vaccination load, and not unusual (ask any nurse at the beginning of her training, or other health professionals) However, I haven't seen anyone stomping up and down in front of Ambulance Victoria's head office demanding to be allowed to train without meeting these vaccination requirements – why? Because everyone knows that they will be dealing with the public, and there is the possibility of contracting quite severe illness if they are not vaccinated.  Even if they are only driving the ambulance.
Applicants know that vaccinations are required.. The applicants are no different to the rest of us.  We are in a difficult covid situation.  It will change, there will be a pill or a serum discovered (as in polio vaccines – in the beginning people died, then the method of culturing vaccination changed, then it was delivered on a piece of blotting paper with no vaccination), but for now in Covid, vaccinations are the best option.  Plus you still need to look after your nutrition, your supplements.. you can't ignore these.  But think long and hard if you decide not to vaccinate.  There are some people who need exemptions…  but there is no need to make this a two tiered society. Neither a society manipulated by cosmic beings dedicated to the crushing of our civilisation.  I have read such explanations – colourful, imaginative, however I for one do not believe them.  I am far too practical.  We have a problem, and we are human.  We try to solve the problem the best way we can.  As Buddha said – "This too shall pass".
If you have a family history or are worried, do what I did – have a blood test beforehand to make sure you are as fit as you think you are. Make your decision based on that rather than an imagined position.  Then after your 2nd vax, have another blood test so that you can compare the two.  Mine came back almost the same.  I even had a brain scan because of clotting in the family – all good.  There is all this technology available for you – take advantage of it, don't just decide from a position of not knowing.  It is great to have the all clear.  I am ready for the next 30 years…are you?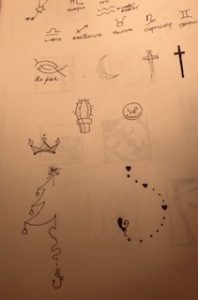 TINY TATTOOS.
Now we are coming out of Covid I can once again look at inviting you back into my studio.  All the covid requirements apply.  I specialise in STICK AND POKE TATTOOS.  Quiet, friendly, heal quicker, small, beautiful.   I am even thinking of an open day so you can come see what I do.  This will be closer to Christmas.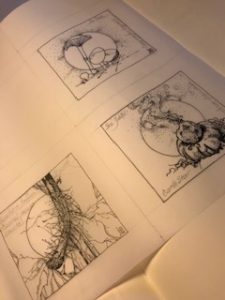 Once again, all the Covid requirements apply.
Despite fears, uncertainties, and many barriers to entry, pursuing tattooing,  and being able to provide a safe and inclusive environment for my clients has been one of my greatest accomplishments. I feel grateful for the opportunity to contribute to this ancient and historically rich tradition and practice, and I look forward continue to better myself and my artistic output with every tattoo that I make
I don't do other peoples designs, I am not interested in an apprentice, I don't repeat things I have done in the past, and I don't have a wait list.  I am an artist – I hate repeating anything except yoga asanas.  Contact me if you would like one of my TINY designs on your body and I will give you an appointment.
THE ZOOM/STUDIO SCHEDULE FOR THE NEXT FEW DAYS ETC.
FRIDAY'S CLASSES:  STUDIO, 5.30 Yoga Class.  ZOOM:  6.45 FREE Tarot class
(No 10am Sunday zoom.  Monday and  Tuesday zoom as usual)
YOUR STUDIO DIARY DATE:  MANDALA CLASS Saturday 27th November (bring your basal charts for interpretation too) This is the last studio art class before Christmas, so bring some Christmas nibbles to share.  Start at 1pm finish about 4pm – could be later ($55 per person)…. materials provided.  You will have a beautiful A4 Mandala to take home and frame.  You may also bring your tarot cards, these could be used with your chart.  It might make a very good tarot/pendulum board. Please let me know if you are coming.
I will see you on the mat. (or in the Studio)
NAMASTE. JAHNE