Dear Yogis –
STUDIO & ZOOM CLASSES.
We are all so pleased to be back in the studio.. Everything is as it was (the garden is a wee bit tidier… but that's all).  Do come and be part of our community – in these covid times, community matters more now than it ever seemed to before, however, we have always valued our yogis!   Some of whom have been with us for a very very long time – 15 years and more.
MY FAULT – confusion about the cost of the classes – concessions, older students etc… I was trying to make it easier, and help you all which resulted in confusion, sorry about that.  So, I am going to revert to what was a particularly easy and successful model we used in 2006. That is a lot of years ago – some of you may remember this.  
From this week…. ...There is only one class pass, and only one price for yoga on zoom or in the studio – $88 for 4 classes for one person for one session.  It is consecutive.  Use up your present passes and then the new charge will apply.  It will be easier to remember where you are at, and the card will only be valid for 4 weeks, so no scrambling around when you lose it.
According to my financial advisor, with only three persons in a class it is the ONLY way it will work, and make it worthwhile.  I recently had to get some gardeners in to help out and they charged $52 per hour all up.  I have had 50 years yoga experience, and am highly qualified – I love teaching, and I love yoga (and I have missed you all during covid), but I no longer want to work for less than a gardener.  ZOOM OR STUDIO, all the same.. it is still an hour of my time and it is how I pay my expenses.  
I thank you for your understanding.  I don't like to bring this problem to you, but I have to – otherwise we will have to close our doors and just work on zoom.. 
STUDIO CLASSES (and ZOOM)
These are filling up, but waitlists are available for when we are allowed more students in the classroom.
MONDAY:  1pm IS FULL.    6pm – there are vacancies in this class
TUESDAY: Ongoing ZOOM Sutra study 7.30pm
WEDNESDAY: 12.30 ZOOM.  5.30pm STUDIO IS FULL (waitlist?)
FRIDAY:  5.30 STUDIO With GENTLE WEIGHTS (get rid of the "covid Bulge").  6.45 FREE TAROT/PENDULUM CLASS.
SATURDAY: 12.30 STUDIO YOGA.
SATURDAY: 2pm ZOOM TAROT/ART (There will be no zoom class this week – it is our monthly studio meeting)
SUNDAY: 10am ZOOM BHAGAVADGITA Study time.
NEW ON ETSY:
CHAKRA/REIKI CHARTS:  I am working on hand-drawn CHAKRA CHARTS echoing the work of Prof. Motoyama, and the REIKI CHARTS inspired by Dr.Usui.  I will let you know when they are on ETSY.  You will be able to buy them as sets to download, or matted and mounted ready to frame.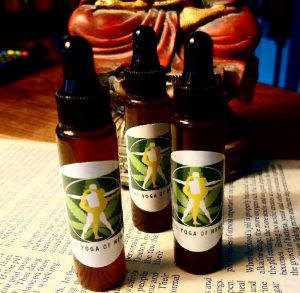 SUPERFOODS/SUPERHERBALS:
I have just finished the latest book of recipes.
It is an update of "Kannabis Kitchen" with a focus on adaptogens – herbals that help.
As usual it can be found on www.myyogabooks.etsy.com.
"DOING WHAT YOU CAN WITH WHAT YOU HAVE".
The Buddha said this, and we are all trying to live up to it I am sure.  It is not about buying some new toy, trying some new distraction, it is about using the skills and the equipment you have to meet your needs.  Yesterday at the evening SUTRA classes we learned about KRIYA YOGA and the NIYAMAS.  About cleanliness, study, positive change, humility and faith…pranayama.  What ASANA really meant when these texts were written.  It was not about the perfect down dog.
ASANA meant "The yoga of active practice", which meant practice causing change, self-observation, and honouring the divine inner teacher.  A synergistic set of tools that bring about real change.  A powerful mechanism for learning and growth. Each part of the practice informs the others therefore change is more profound and noticeable when they are practised together.
PLEASE COME TO NEXT WEEKS SUTRA LESSON.  (Tuesdays 7.30pm) It is a process of self development using the skills of yoga, not just asana.  Inner growth involves changing the way that we feel, the way we do things, our attitudes, and our expectations.
SEE YOU THEN?
NAMASTE.  JAHNE