Dear Yogis –
My day off, so a short newsletter.  PLEASE CHECK OUT OUR STORE.   I have listed the new SMALL Pendulum Boards.  The prices include Postage in Australia.  I will also be listing the new GATEWAY LIFE-PATH READING. You can book with me PERSONALLY or tomorrow book from the web site. Email: yogafirst@netcon.net.au
INTRODUCING: YOUR LIFE PATH ANALYSIS – THE GATEWAY TO INTEGRATION AND ABUNDANCE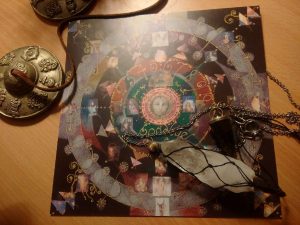 My powerful PENDULUM/TAROT analysis is the starting point of your personalized path to your abundant state… Allow me to  take you on a journey through an in-depth understanding of what your LIFE PATH truly encompasses, and help you gain an overall perspective of who you truly are, and who you can become.
This ZOOM reading will reveal your path and purpose, guiding you through each phase of the LIFE PATH Integration process,.
To make this journey as effortless as possible…YOUR LIFE PATH ANALYSIS IS SPLIT INTO FIVE PROGRESSIVE, TRANSFORMATIONAL PHASES…The TRANSFORMATION, INCARNATIONS, PROFILE, THE ROAD AHEAD, and your ACTION GUIDE.   Begin your  LIFE PATH journey with me personally on zoom for only $215.25.
Or a Three Question introductory LIFE PATH reading for $85.00
All I ask in return is you spread the good news of archetypes, Individuation, and LIFE PATH Integration to your friends and family around you, so they too can rise above the blocks and challenges that have been thrown at them. 
Invest in this wonderful, life affirming program so that you can all have a fighting chance to step out of  "normal" into wonderful.
TO BOOK OR ENQUIRE:  Email: yogafirst@netcon.net.au.
SEE YOU ON ZOOM.
NAMASTE. JAHNE