Dear Yogis.  
Not much philosophy today.  Just helping you work out the zoom times you would like to visit me.  Remember when you do a zoom restorative class you will need the equivalent of a bolster, a blanket (for meditation), a cushion or two and a block.
You can join my yoga classes (I still have my trainer wheels on), book a time for a tarot reading, or book a time for a private yoga session. I wish I could do PPT Massage on-line, we all need work on our nervous systems, but no, I can't.  I am exploring a new PPT technique for my PPT graduates,  centred around the Atlas Vertebra, the top bone of the spine. You may be surprised to learn that 99% of people carry an injury here that they may know nothing about which causes a long list of ailments from poor posture to depression, to IBS.  We started with PPT, now I am taking it a step further.  If you are interested, please let me know.  Email:  yogafirst@netcon.net.au.  I am exploring ways to bring it to you on ZOOM.
The photo above to the left is the back of my new TEA LEAF READING CARDS, below on the right is a spread of the fronts of the cards.   I was so impressed with the look, and the lovely seal I couldn't resist showing it to you. They are being printed asap – covid has slowed the process down.  But you can express your interest and be one of the first with a set.  The pack will include an instruction booklet, a mini poster, and the cards all presented in a felt/fabric pouch to minimise postage.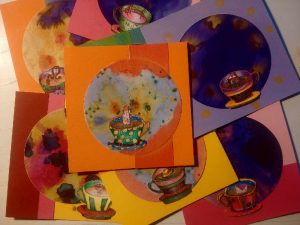 Jahne's Private Yoga/TAROT Sessions (ON ZOOM).   In the middle of covid what are we to do?  Even in the "good times" its difficult to find a practitioner you can relate to;  Maybe you are looking for a more personal class and a closer look at what ails you.
My private sessions are perfect for all persons who are seeking a more confident relationship with their wonderful selves.  Our sessions are wide ranging.  We can look at the tarot, examine health, and any issues you may have…  It's your call.  The session can be designed just for you.
Options:
Session Times: Bookings are available  Monday to Sunday until late (minus Thursday which is my day off) at my private studio on ZOOM.  We can even do a zoom session when the children are in bed…  
Fee Schedule:
Initial Consult (minimum) 1.5 Hour:
Full: $115/ Concession: $95 *
Follow Up 1  Hour Consult:
Full: $95/ Concession: $85 *
Each Additional  Hour:
Full: $85/ Concession: $80 *
Teacher Trainings and courses see the menu on our Web site. 
* Concession  available for health card holders; or those who have attended classes, retreats or workshops with me previously. Please advise at time of booking.
THE CYCLES OF PROSPERITY.  
If you have ever attended a class on Economics you will be familiar with the model of the business cycle.  GROWTH/BOOM/PLATEAU followed by RECESSION or DEPRESSION.  This is usually followed by BOOM/GROWTH again.  After the ravages of the  Spanish Flu there was the 'Roaring 20's". We can see this cycle if we examine nature -spring, summer, autumn, winter. (By the way, many more people world wide were killed by the Spanish flu than ever died in the World Wars, and the modern flu is a strain of that flu that we have adapted to. Covid is new and unrelated.  We have yet to adapt and build a natural immunity to it as we have to Spanish Flu).
Life is easier if you know what your WORK CYCLE is.  I like writing and painting, and doing indoor things in the autumn/winter.  At this time I work hard planning, and preparing for the year ahead, but am less inclined in the spring and summer to do this,  when you will find me in the garden or the classroom (same thing), taking advantage of the planning I have done.  Covid works well for me in this regard.   If you have a cycle, learn to identify it and work within it.  Look at the times you NEED a vacation, the times when money is scarce, and times when you seem to have more.  If you work within your own prosperity cycle, you will get better results.
If you think there is never an "up" cycle for you.  Maybe you haven't noticed your cycle, or maybe you need a new one.  Each part of the cycle is necessary.  There is a reason for the Psalm "To everything there is a season…."
HAVE A GREAT WEEKEND – SEE YOU ON ZOOM SOON.
NAMASTE  JAHNE