Dear Yogis,
WEEKEND. ZOOM AND STUDIO DATES
ZOOM:  Saturday at 2pm ART and Sunday Gita at 10am – we are up to chapter 13, so only 5 more chapters to go!.  It took us right through Covid lock-downs to read through the Gita from end to end last time.  This time not even 6 months.  Maybe next we could take the Bible or the Qur'an, or  "Jesus The Man". Monday "Forgiveness" 6.30.  and Tuesday Rumi at 7.30 of course – the Qur'an and Rumi and The Gita are very close.  Can't learn one without the other.  Rumi isn't just a "nice" poet, he is apocalyptic as are the Sufis.  To learn more – come to class.
STUDIO:  I only have Monday yoga at 1pm and Wednesdays yoga at 5.30 as regular studio dates.  I do one-on-ones via the studio and zoom if you are interested in special classes email me for an appointment to suit you..
 THE DEPARTMENT STORE…
Keeping with my idea of the department store life, this week in my department store, I am focussing on some new art pieces I will be able to put in the window next week!  I have been working small. Now I want to work BIG.
Here is something I have learned about this way of thinking.  If I want to put something in the window next week, I will have to plan when I will have it ready for display.  It doesn't happen right away.  This means that this week, whilst I am working on next week, I also have to keep the store open by bringing to you what I finished and got ready for you LAST WEEK.  Complicated…?  It is all a matter of timing, but I like it because it doesn't nail me down to producing one thing forever.  I am also doing all the admin relative to my store.  Of course Etsy has always tried to get me to do this, but they used language that was too businesslike, so I didn't listen.
Now I am doing it for myself I can see the wisdom in this way of thinking FOR ME.  It may not work for you, although I have a suspicion it will.
This week in my Store….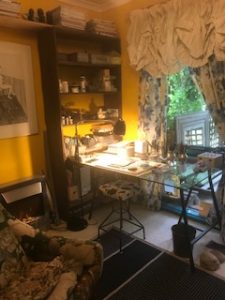 On the ground floor – YOGA is still happening.  Not as much as used to because other floors are being featured, but it is registration time and I always am studying and catching up for zoom and books I am writing –  that keeps me marginally busy but in a controllable way. Philosophy (a great love), takes up a lot of mind space no matter which "floor" I am on.
On the second Floor – ART – I am preparing two new works, if I can do more, that would be even better.  I do have small pieces to frame… First I have to MAKE THE BRUSHES (can't buy the shape I want), and then prepare the boards.
On the Third Floor – ADMIN AND HOUSEKEEPING – I have been organising a Facebook page for my new book, I have also got the printer organised.. The garden and the house are benefitting from the new electrical gadgets I have.  I also bought a backyard tap timer, because now I am cleaning windows (and everything) with the new Karcher "Pirana", and trimming and clipping hedges and borders with the Ozito implements, I can be so busy and involved – I forget to turn off the sprinklers…. A timer will solve this (that is the theory).  Cheaper than excess water bills.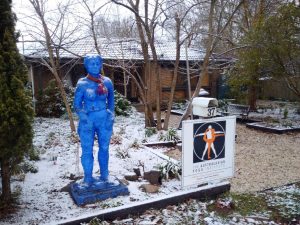 In the morning when I look at the garden sparkling with sunlight on frost, and I  thank God for the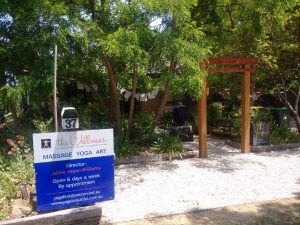 responsibility He gave me when I arrived at this house and garden.  If I can't look after this, then how will I look after what comes next?  Will I be going bigger or smaller.  If I look at the garden and think it's terrific, but fantasise  about something half the size,   am I  saying I don't know what I want or I don't know what I can handle?  Or am I saying God doesn't know what I want or can handle? I handled 100 acres well and when opportunities arose was not afraid,  took them, and  grew it from 15 acres…..  Although just a large house block,  I have radically improved where I am – the photo to the left was taken about 3 years ago.. the photo on the right taken last year.    I am excited to discover what comes next.  For me, changes happen suddenly.  Maybe all that is needed is for me to change my mind, not where I live?  Only God knows – I am open to the next chapter.
Our next Philosophy classes may be about achieving your destiny.
SEE YOU ON THE MAT – IT HAS BEEN MY DESTINY TO BE THERE FOR YOU.  I AM STILL HERE.
NAMASTE.  JAHNE