DEAR YOGIS,
FOR ALL YOU WHO HANG BACK WITH REGISTRATION, in the belief it is too expensive or not needed(!).  One of our graduate yoga teachers who regularly upgrades her registration with us,  uses the little identity card in her pack far better than most of you and saves hundreds of dollars in the process (and she is not alone in this habit).   She SAVES $120 with every pack of 10 classes that she attends in both pilates and yoga, in Melbourne City Studios where yoga and pilates without a card is $30 a class.  PLUS, she saves 5% on Dymocks Books, 5% in Evelyn Faye, and even bigger savings with LuLuLemon clothing and more.  She trots out the card whenever she spends money…  So she saves $300 every term at least just on the basics..  Have you been paying attention?  Update your registration and start saving.  Would you spend on a registration to save $1,200 like our student does? You can!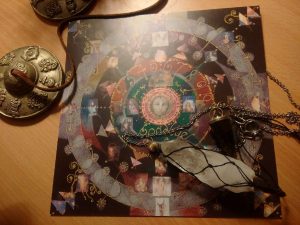 PAST LIFE readings – including TIME DATE PLACE.  I know many of you are interested in past lives.  Well I can do a report for you on your past life via email.  I can discover the time of your birth, the date, the time, the place.  Plus I can give you the significance of that birth, the challenge the resources, the lesson…  A life story and its relevance to this one,  intuited to the best of my ability using the tarot.  I am sure you understand that this is a reading that takes long research,  at least two hours of cross referencing and even more study using maps, geographical information, charts etc.  The cost is $250.   If you are interested please email me your full name and the date of your birth (I use this as a cross reference).  You can book and the pay via PAY PAL for a reading via our home page – www.yogabeautiful.com.au.
NEW TO "EXCITING NETTLES".   I love nettles.  Nettle pizza, nettle scones, spanakopita, nettle cordials, gnocchi, risotto, cupcakes,  and so on.  It is endless.  Whatever you can do with any other green, you can do with nettles.  After years of trying I now have quite a crop, and this afternoon am going to make a batch of nettle pancakes which are just as good with jam and yoghurt, or cheese, apples and quince jelly.
Ingredients (you can double these ingredients if you are cooking for a party as they can be frozen for later – I have catered a pancake party for 30 people which was as easy as).
300 ml milk
2 eggs
Half tsp fine sea salt
60 g plain – or spelt or a mix of flours
20g butter, melted, plus extra for frying
300g loosely packed stinging nettle leaves  washed and dried – no need to blanch. (You could use spinach or a mix of greens, herbs or vegetable tops)
Blueberry jam and yoghurt, (or apples, cheese and yoghurt) to serve
Cooking notes:  I use an electric pancake cooker, but a frying pan is just fine.  I use Australian tablespoons and cups: 1 teaspoon equals 5 ml; 1 tablespoon equals 20 ml; 1 cup equals 250 ml. Nettles are fresh, but less in the recipe if dried..  
COOKING INSTRUCTIONS: 
Place the milk, eggs and salt in a bowl and whisk to combine. Gradually add the flour, then the melted butter, whisking until the batter is smooth. Let rest at room temperature for 30 minutes. If bits of butter rise to the surface, this is fine.
While you are doing this, bring a saucepan of water to the boil. Add the nettles and quickly cook for 10-30 seconds or until blanched. Remove the nettles and refresh under cold running water or plunge into iced water. The next step is important – drain and squeeze the blanched nettles to remove as much water as possible.
Then finely chop the nettles and stir into the pancake batter. Heat a frying pan over medium-high heat. Add a knob of butter and a ladle of the batter, and tilt pan to spread; Sometimes I do thin pancakes,  and sometimes small thicker ones, depends if they are for breakfast, or to accompany an evening meal.about 2 mm thick and 10 cm in diameter. Cook for 1 minute or until set and browned. Flip over and cook for a further 1 minute or until brown. Transfer the pancake to a rack. Repeat with the remaining batter, wiping the pan with a nob of butter on a kitchen towel  in between each pancake.
Serve the pancakes warm with jam, or cheese..
Note  • Don't be scared of stinging nettles.  Use gloves or a plastic bag over your hands to pick, and gloves or tongs to cook, until they are blanched  after which the sting is gone.  If you have them in abundance you can dry them and keep a supply for when there are no fresh nettles available.  I have a lovely big jar of dried nettles – what a great resource.
If you're new to foraging for wild plants, stinging nettles are the perfect plant to begin with; they're easy to identify and they grow in abundance (although such has not been the case for me, and I have had to nourish my plants). Pick the top 4-6 leaves of each plant; this way, the nettles continue to grow all summer long. Don't forage stinging nettles near roads, compost bins, or possibly polluted areas, as the plants absorb harmful nitrogen from soil and air.
And most importantly when foraging, don't forage or eat any plants, mushrooms, or berries that you can't identify with 100 per cent certainty. This is not the time to experiment, as the results may be disastrous.  You can't "un-eat" a poisonous plant.  There aren't many, but don't chance it.
NEW SCHEDULE:
WEKLY STUDIO/ZOOM SCHEDULE  (PLEASE BOOK AHEAD – NO DROP-INS)
EASTER –   Yoga as Usual.

ZOOM: Mon. 6.30 Gita, Tues. Herb workshop 7.30, Friday 6.45 Tarot on holidays until 29th April.
STUDIO: Mon. 1pm (full), Wed. 1pm Restorative (full), Friday 1pm Hatha,  SATURDAY 1PM RESTORATIVE YOGA.
MONTHLY LUNCHEON:  Thursday 28TH APRIL at 12noon at "The Vic" in Woodend (If you are running a bit late, relax, it's OK – drop in for dessert).
CONSULTATIONS: Tarot/Bach/Bowen or a combo – by appointment only.  $85 plus remedy (and postage if zooming)
Past-Life (QHHT taught by Dolores Cannon) $250. Group Past Life readings by arrangement.  yogafirst@netcon.net.au
(TANTRIC) HERBS – HERB BAGS.  $53.50 for 7.  Each bag will last at least 2 days steeping.  Essence given to complement the tea.  This is not a usual tea, it is a Herbal remedy taken as tea in a tea bag.  If I send them to you add $6 for postage.
Please make a zoom consult so we can be sure the teas will suit you and help you on your road to wellness.  YOU CAN ALWAYS DROP IN FOR HERBS TO ADD TO YOUR COLLECTION – DRIED, FRESH OR TO GROW…. Email me for your next step yogafirst@netcon.net.au.
COME SEE ME AT THE STUDIO.
NAMASTE – JAHNE