Dear Yogis,
A wonderful weekend and much accomplished, although it was cold.  I overworked my arm, the one I snapped a bit over-reaching from the top of a ladder.  A comic moment with no excuses.  But, I have learned the hard way how much I really do rely on my left wrist even though I am right handed.  All good thanks to my herbal remedies, the sun is shining, and I promise not to overwork it in yoga today.  We had a BLACK FROST last week which killed my lovely basil, turned the potatoes greens to mush… and clipped many of the tender leaves from my herbs.  I need a greenhouse.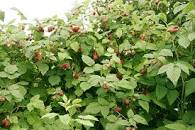 I have been working hard gathering herbs for my herb teas, and when I have finished packing the Raspberry Leaf Tea today you will be the first to know.   This year I am going to plant WHITE RASPBERRIES.  They don't go red as they ripen, therefore they confuse the birds! I can get there first.
We make RASPBERRY LEAF TEA to support healthy menstruation, tone the uterus and soothe menstrual cramps.European and Native American women have used these leaves for thousands of years to prepare the womb for childbirth, and some farmers even use it for their lady goats who are expecting. And raspberry leaves aren't just for women, the astringent action makes it useful when toning of the upper or lower gastrointestinal tract is needed.  When using it medicinally a tea bag can be dunked in warm water or with another tea morning, noon and nite.  Tea bags in this way can be used over a couple of weeks and have been found to be a natural, herbal way to relieve symptoms.
RASPBERRY LEAF TEA makes delicious drink for any time of the year, hot or cold.
MAKES 6 SERVINGS (You can reduce the amount of tea and other ingredients to adapt this recipe to an individual serve)
Ingredients: ⠀⠀⠀⠀⠀⠀⠀⠀⠀
A 20 gram bag (or more depending on taste) of our loose Raspberry leaf tea.
2 cups raspberry juice or another favorite berry juice
4 cups boiling water
Juice of 2 lemons
1/4 cup honey
Sparkling water
Directions:
Place tea bags in a large jar.
Cover with boiling water and steep for 15 minutes.
Remove tea bags, squeezing out any excess tea, and discard.
Add in lemon juice, raspberry juice, honey, and shake well.
Pour into glasses over ice, filling about 3/4 of the way.
Top off with sparkling and garnish with fresh fruit, citrus, or edible flowers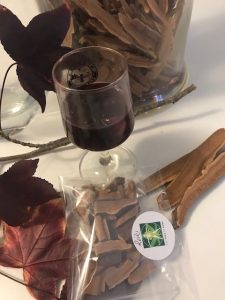 RESHI CHINESE WINE
I am sure you have read about the value of Reishi.  We have it in two formulas – powder and dried strips. Reishi mushroom (Ganoderma lucidum) is a bitter-tasting mushroom. It is thought to have some effects on our immune system.  Very much needed at this time post covid (for most).  In China, Reishi mushroom is used for Alzheimers, cancer even diabetes, and many other conditions, but there is no good scientific evidence as far as Western Medicine is concerned, although it is a valued part of the Chinese Herbalism, and a valued part of my own regime.
I steep reishi strips  it in a Chinese Red wine (not a Western Shiraz etc) and drink a couple of TEASPOONS of this fortified wine night and morning (you would not drink it for fun).  It just sits in a jar on the bench, tastes very medicinal, but it a good way to get the value of the mushroom, and one which has been used through the ages in China.  The Chinese do not drink wine as we do, and traditionally see it as a medicinal addition to the meal, not a fun extra.  For those who do not drink alcohol, you could use apple cider vinegar and water to replace it.  Flavour to your taste.  Remember it is a medicine, and one teaspoon as a time is taken.
Price:  Loose Raspberry Leaf tea.  $20 for 50g loose plus $5 postage.
(TANTRIC) HERBS – HERB BAGS.  $53.50 for 7.  Each bag will last at least 2 days steeping.  This includes a Bach Flower Essence given to complement the tea.  This is not a usual tea, it is a Herbal remedy taken as tea in a tea bag – I cannot emphasise enough how essential I believe these are for your well being.  I take them myself EVERY DAY, and feel fabulous.  I think over time we will all get some form of covid, but I believe my herbs will help me through.  If I send them to you add $6 for postage.
TEAS: Custom blended teas – just for you.  Black, Rose Petal, Spiced and so on… let me know what you like and I will blend especially for you $20 for 50grams loose, plus $5 postage.
Most popular "SMOKING HERBS".  If you want an alternative to cigarettes, or want to really relax, chill, then this could be for you.  All natural, all gentle, no chemicals. A pack of three $53.50 including postage.  25g per each (75g of herbs).   You will find them on www.myyogabooks.etsy.com
Please make a zoom consult ($85 for the zoom including your tea).  I would prefer to see you so we can be sure the teas will suit you and help you on your road to wellness. You can email if you don't like zoom… and  YOU CAN ALWAYS DROP IN FOR HERBS TO ADD TO YOUR COLLECTION – DRIED, FRESH OR TO GROW…. A studio consult may include PPT MASSAGE or BOWEN, the herbs, tarot counselling… whatever is needed.  Email me for your next step yogafirst@netcon.net.au.
CURRENT STUDIO/ZOOM SCHEDULE: (Studio Yoga – Mondays and Wednesdays at 1pm are Full)
WEKLY STUDIO/ZOOM SCHEDULE  (PLEASE BOOK AHEAD – NO DROP-INS, sorry)
ZOOM: Mon. 6.30 Gita, Tues. Herb workshop 7.30, Friday 6.45 Tarot –  $50 for 4 Friday classes.
STUDIO YOGA:Mon. 1pm (full) 2pm, Wed. 1pm Restorative(full), Friday 1pm Hatha,  SATURDAY 1PM RESTORATIVE or HATHA YOGA.
NEW CLASSES.  I am starting a new gentle hatha class from Monday 16th May at 2pm, and looking to put on extra weekday classes as demand increases.
MONTHLY LUNCHEON:  Thursday 26th May at 12noon at "The Vic" in Woodend (If you are running a bit late, relax, it's OK – drop in for dessert).
CONSULTATIONS: Tarot/Bach/Bowen or a combo – by appointment only.  $85 including remedy (including postage if zooming)  Past-Life (QHHT taught by Dolores Cannon) $250 via email or in the studio.  The reading includes Time, date, place of the prior life. To discuss,  email  yogafirst@netcon.net.au
PPT/STRETCH THERAPY –
Our sessions in STRETCH added to PPT are remarkable.  PPT feels the energy, STRETCH MOVES WITH IT.
Some of the benefits of assisted Stretch Therapy as very much like the benefits of yoga, but in a much shorter time… and we help you, you don't need to do it on your own, (and you don't need to undress).
BENEFITS:  Easing pain associated with tightness and tension * Improving range of motion, flexibility, mobility and strength * Improving posture, physical appearance will enhance your self esteem and counteract the effects of ageing * Increasing overall fitness and athletic performance * Reducing the risk of injury * Encouraging relaxation and relieving stress * Increasing circulation and blood flow to the muscles, surrounding tissues and joints.
With regular stretching, you do the work yourself. Some people find it hard to know the proper way to stretch and which muscles to focus on for optimum positive impact. Without having the accountability of a regular stretch routine, many people will stretch minimally or not at all, the result is the feeling of old age and stiffness overtakes them.
As in a variation of Thai Yoga, in assisted stretching, the work is done for you. When you come to me, my knowledge of yoga, anatomy, physiology and stretching techniques, will take you through a thorough routine of stretch personalized for your particular needs. BREATHING IS KEY.  During some stretches, you will be encouraged to breathe deeply, and relax your limbs to get the most out of the stretch. For other stretches you may be asked to engage and work the muscles.
If like many people, you're not good at stretching on your own, our stretch therapy sessions can help keep you accountable to improving your body through stretching.
Call me for a session, any day except Thursday.  yogafirst@netcon.net.au
I HOPE TO SEE YOU ON THE MAT, OR IN THE STUDIO, EMAIL ME!
NAMASTE – JAHNE