Dear Yogis,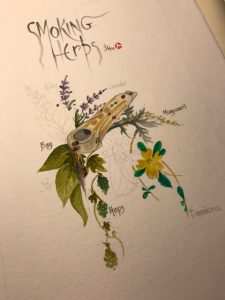 Hope you were NOT among those who missed THE TUESDAY HERBAL CLASS.  Because it is winter, I thought something different with herbs was in order, and for artists we did the class on HOW TO MAKE HERBAL INKS, and for the cooks among us the remainder of the time learning WHICH FLOWERS ARE EDIBLE – it may surprise you.  Do you stuff Gladioli flowers with cream cheese, or use Yucca in your cooking?   I use herbs and flowers every way I can.  I make inks and use flowers in and on bakes, and even in this cold weather there is always something available.  Hope to see you at class next time.
I also use herbs as smoking/pot-pourri/incense herbs.  They are quite beautiful, and I can tweak the mix for energy or conversely for relaxation.  Happy, happy herbs!  I even make incense sticks and cones with my own herbs, including herbs and spices….it isn't hard to do.  Why buy them when you can make them.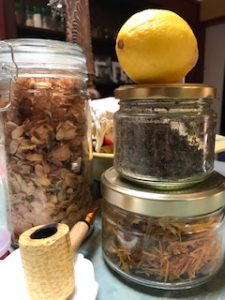 TEAS: Custom blended teas – just for you.  Black, Rose Petal, Spiced and so on… let me know what you like and I will blend especially for you $20 for 50grams loose, plus $5 postage.
Most popular "SMOKING HERBS".  If you want an alternative to cigarettes, or want to really relax, chill, then this could be for you.  All natural, all gentle, no chemicals. A pack of three $53.50 including postage.  25g per each (75g of herbs).   You will find them on www.myyogabooks.etsy.com
Please schedule a zoom HERBAL consult ($85 for the zoom consult including your tea).  I would prefer to see you so we can be sure the teas will suit you and help you on your road to wellness. You can email if you don't like zoom… and  YOU CAN ALWAYS DROP IN FOR HERBS TO ADD TO YOUR COLLECTION – DRIED, FRESH OR TO GROW…. A studio consult may include PPT MASSAGE or BOWEN, the herbs, tarot counselling… whatever is needed.  Email me for your next step yogafirst@netcon.net.au.
CURRENT STUDIO/ZOOM SCHEDULE: (Studio Yoga – Mondays and Wednesdays at 1pm are Full)
WEKLY STUDIO/ZOOM SCHEDULE  (PLEASE BOOK AHEAD – NO DROP-INS, sorry)
ZOOM: Mon. 6.30 Gita, Tues. Herb workshop 7.30, Friday 6.45 Tarot –  $50 for 4 Friday classes.
STUDIO YOGA:Mon. 1pm (full) 2pm, Wed. 1pm Restorative(full), Friday 1pm Hatha,  SATURDAY 1PM RESTORATIVE or HATHA YOGA.
NEW CLASSES.  I am starting a new gentle hatha class from Monday 16th May at 2pm, and looking to put on extra weekday classes as demand increases.
MONTHLY LUNCHEON:  Thursday 26th May at 12noon at "The Vic" in Woodend (If you are running a bit late, relax, it's OK – drop in for dessert).
CONSULTATIONS: Tarot/Bach/Bodywork – by appointment only.  $85 including remedy (including postage if zooming)  Past-Life (QHHT taught by Dolores Cannon) $250 via email or in the studio.  The reading includes Time, date, place of the prior life. To discuss,  email  yogafirst@netcon.net.au
STRETCH (THAI) BODYWORK
Our sessions in STRETCH added to PPT are remarkable.  PPT feels the energy, STRETCH MOVES WITH IT.
Some of the benefits of assisted Stretch Therapy as very much like the benefits of yoga, but in a much shorter time..
*This type of stretch "reprograms" chronic pain patterns by "hacking" the central nervous system
*It unlocks shoulder muscles in minutes
*It provides lasting relief in just 1-3 sessions, releasing taut fibers.
With regular stretching, you do the work yourself. Some people find it hard to know the proper way to stretch and which muscles to focus on for optimum positive impact. Without having the accountability of a regular stretch routine, many people will stretch minimally or not at all, the result is the feeling of old age and stiffness overtakes them.
As in a variation of Thai Yoga, in assisted stretching, the work is done for you. When you come to me, my knowledge of yoga, anatomy, physiology and stretching techniques, will take you through a thorough routine of stretch personalized for your particular needs. BREATHING IS KEY.  During some stretches, you will be encouraged to breathe deeply, and relax your limbs to get the most out of the stretch. For other stretches you may be asked to engage and work the muscles.
If like many people, you're not good at stretching on your own, our stretch therapy sessions can help keep you accountable to improving your body through stretching.
Call me for a session (or to train in any modality we do at this centre), any day except Thursday.  yogafirst@netcon.net.au
I HOPE TO SEE YOU ON THE MAT, OR IN THE STUDIO, EMAIL ME!
NAMASTE – JAHNE