Dear Yogis,
ZOOM: (whilst in lock down)  
Wednesday: 5.30 Restorative yoga
Friday 5.30 hatha yoga (Studio or zoom depending on lock-down finishing)
Saturday 10.30 The Business of Yoga – a free one hour seminar.
Sunday: 10am The Bardo Study or 2pm Studio – depending on YOU and Covid. Teacher Training should be happening at the Studio this Sunday 6th June..we can't make any decision until we know about the lock-down.  It will be either zoom at 10 or the Studio at 2.  We can do either.  If you want to come here and can, or would prefer to zoom in the morning.
If you don't make a decision, I will.
Zoom:  Monday next week 6.30 Teacher Training – Mary Magdalen/Tuesday next week 7.30 Mary Magdalen
Studio Yoga: Monday, Wednesday and Friday depending on Lock-Down.  
THE RED THREAD OF FATE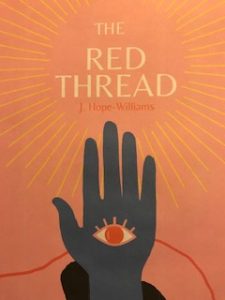 I have updated both the book and the making of these items.  Every time I put them on line they sell out (thank you to my customers out there).  
Each of these RED STRINGS OF FATE, are handmade by me, and blessed with a small ceremony before dispatch, together with an accompanying booklet also made and bound by me just for you.
The Red String of Fate or the Red Thread of Destiny is an amulet which dates both from ancient Asian and Jewish traditions. In Jewish lore it protects the wearer from danger, and in the Asian tradition it connects lovers regardless of time, distance or circumstance.
From a spiritual and yogic point of view it connects us to others.. when we see someone wearing a red thread, we know we have a connection with them. We are bound to them with a spiritual bond.
Why do I wear mine?  It reminds me that I am a spiritual being having a human experience, connected to God,  and nothing can happen to me except that it is ordained by God. I trust this.  We girls wear it on the left wrists, our receiving side, the same side as the anatomical heart.  Boys wear it on the right.
Many celebrities wear the thread (not that this should influence you – but they are visible) and once you have one, you will notice how many other folk wear them as well.  It is the same as when you have a new car, you suddenly realise how many other folk are driving the make you now have although you never noticed that before.
This bracelet comes with a book which gives a history, stories, tells you how to wear them, and gives you some background from many points of view, and many spiritual paths…...Couples can wear one each  just to show you are connected in spirit even when not physically near each other.  You can also give it to yourself to strengthen your connection to spirit.  Every time you notice it you will feel that little tingle of transmission.  
A friendship bracelet is just a friendship bracelet BUT A RED THREAD IS FOREVER. 
To get yours go to www.myyogabooks.etsy.com
ABOUT MARY:
Page 17  – of The Gospel of Mary..
"… I go now into silence"
Having said this, Mary became silent,
for it was in the silence that the Teacher spoke to her.
Page 18
(Levi speaks) ..Yet if the Teacher held her worthy,
who are you to reject her?
Surely the Teacher knew her very well,
for he loved her more than us.
Therefore let us atone,
and become fully human,
so the Teacher can take root in us.
Let us grow as He demanded of us,
and walk forth and spread the gospel,
without trying to lay down any rules or laws
other than those he witnessed".
Page 19
When Levi had said these words,
they all went forth to spread the Gospel.   THE GOSPEL ACCORDING TO MARY.
MEET ME AT THE TEACHER TRAINING AND ON THE MAT,
NAMASTE.  JAHNE