Dear Yogis,
On Monday, yesterday, I had a garden afternoon.   I have discovered over time that Chocolate Mint, Thai Mint, Mugwort, Lebanese Cress and of course Watercress can all provide a really good water crop.  So I planted each of them, again.  I did have a wonderful crop of watercress, but the tadpoles, (and there were many), decided that they like watercress, and they cleared the whole pond of it, so I have had to replant.  The roots are wonderful and keep the water clean and clear, and add a few fish to keep the mozzies down, and you have a balanced system (minus taddies).    Gardening is not a meditation for me, it is work – and in this time of no yoga classes, work is welcome.
These are photos of the pond.  Looks a bit wild and woolley, but that's how it is…  I inserted two larger gold type fish who were (when I last looked) exceeding happy.  If the heron swoops in it will be unfortunate and underline why I should have stuck with pygmy perch – they are fast and you can't see them.   If the sun comes out this afternoon it will be gumboot time – I can see changes I want to make.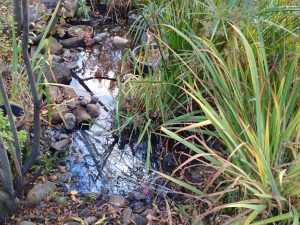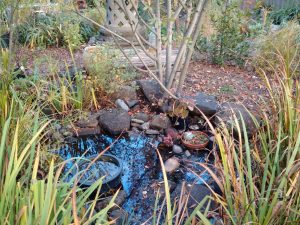 A friend of mine in Central Victoria is growing Salt Bush, so my next summer I will have a tincture for the cat's nose.  I am not sure the bush will grow the same with the same properties as the one I use … but I am happy to have the foliage and try.  I can make the tincture.  No-one has spoken to me about their supplementation.  I take lots, and my acupuncturist approved (surprisingly).  I make Olive Leaf Extract (I also make gin, but that is for another time), I take mega C and so should you – eating oranges is not enough. I also take big zinc, creatine, and turmeric ("hemp" boosted) milk.  What are you relying on?  I am getting younger by the day.  My skin is great, my poop is fantastic, and everything is clean and clear.  WHAT ABOUT YOU? If you need essences, hemp super turmeric…whatever.  I am here.  just ask.  yogafirst@netcon.net.au
I have tarted up my blog – it took some time, but I think it looks better, and gives you some options..  Please go to www.wildnweedy.blogspot.com     and let me know what you think.
On Tuesday and Wednesday  am going to focus on making masks.  I have been dancing around the fabric. i.e. not wanting to cut.  The fabric is so beautiful it seems a pity to make a mask out of it – but we may be wearing masks for a long time… we might as well have beautiful masks, not just one, lots.  One for every day – different colours, different fabrics.
Stay well, stay warm.  NAMASTE – JAHNE