Dear Yogis,
ZOOM:
TUESDAY: 7.30pm Yoga Lecture. 
WEDNESDAY:  12.30 RESTORATIVE YOGA  5.30 RESTORATIVE YOGA.  6.45 MINDFULNESS/YOGA NIDRA
FRIDAY:  11am ZOOM CAFE   5.30pm RESTORATIVE YOGA
SATURDAY:  12.30 RESTORATIVE YOGA    2pm MAKE YOUR OWN TAROT/"ZEN DOODLES – The Tao of Watercolour".
"ZEN Doodling" classes $50 for three classes.  To enquire or register interest email me at yogafirst@netcon.net.au.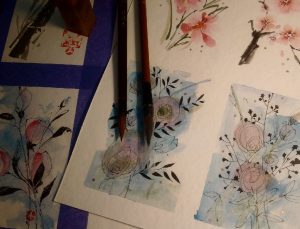 DOODLES – You could do this.  All it needs is a little playfulness, and a willingness to try.  It is easy. Materials are easy to come by from you your local newsagent (for starters).  Just some watercolours, a brush, some watercolour paper, rags, water jars, a fine tipped sharpie, drafting tape, and kitchen paper.  If you had some Chinese brush painting equipment that would be good, but at this point not mandatory.
Then we just play, chase the paint around.  When you consider that getting cards are so expensive today, making your own would be a great saving – I really don't like email cards. Do you?  You can see from the photo that I made four cards in one go, and you could too.  They can be given as Christmas gifts, and once you have got a few skills you can show your children how to make them with you in no time at all.
DOWSING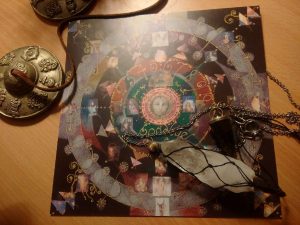 Every day, a number of times a day I use my pendulum. I ask questions like  "how many vitamin B, C, Magnesium and when?" Very practical questions.  What to plant in the garden, where is the leak in a pipe?  It is about working with the universe, so we can't be sure of the outcome, but it is very interesting.
I have the little pendulum chart just by my computer with my crystal so that I can refer to it when choices come up that I need another friend to talk to, and believe me my crystal is my friend.  For your pendulum chart ( small or large)  go to www.myyogabooks.etsy.com
I made this chart and pendulum and can help you make your own.  Please register your interest by emailing me personally at yogafirst@netcon.net.au.
MEDITATION
Traditionally MEDITATION means "to fix the mind" (not to "empty the mind).  We have to ask ourself the question "Fix the mind on what?"  To be above the everyday anxieties which affect the mind, we must raise ourselves above the material platform.. the next question is "How can I rise to the SPIRITUAL?"  God (The Creator, whatever word you use) is on the spiritual level, and if we are in constant alignment with God, then we can also be situated on the spiritual platform – even whilst we function on the material plane.  The easiest way to be fixed in constant contact with God is through chanting His Names.  Not always out loud… As yogis, we think of these names as MANTRAS.
MALA BEADS
The best way to chant a mantra is to carry a set of beads (108 beads on the string), a big bead added to mark the starting and ending points.  Chant your mantra on all 108 beads and when you start and end at the big bead we call this one round.  Each round should take 7-10 minutes – or perhaps a little longer to start with.
It is said that if you practise this meditation you will achieve success and happiness in life.  I have one on my wrist I use a number of times every day just to ground me, and a very large string of crystal  MALA BEADS I use when I am sitting for a dedicated mantra meditation.
Malas can be a significant part of your meditation practice, and we will learn to make them in our Saturday/Sunday classes.  Here are some unique ways to use a mala:
Gift a MalaPurchase (or make) a mala and give it to a loved one to commemorate a special occasion like:
Completing a degree
Finishing yoga teacher training
Birthday
Anniversary
"Just Because" special treat
Honor Yourself.   Set your mala at the top of your yoga mat (or like me, wear it on your wrist) as a reminder to your intentions as you practice yoga asana. You can also wear your mala necklace to honor whatever it means for you, like an:
Accomplishment
Desire
Intention
We can change our destiny through Devotional Service and Chanting is a Devotional Service not subject to material laws but to the spiritual principles Krsna shares in the Bhagavadgita.     (We are studying the Bhagavadgita in Teacher Training on Sunday Mornings at 10am – join us).
SEE YOU ON THE MAT.
NAMASTE.  JAHNE