Dear Yogic,
ZOOM
MONDAY: 1PM RESTORATIVE with bands and weights ("ZEN DOODLES" CLASS 6.45 pm – start date pending your interest)
TUESDAY: 1.30pm The Tao of Watercolour, "ZEN DOODLES" No art experience required. Start date pending your interest.  7.30PM DISCOVERING THE CHAKRAS.
WEDNESDAY: 12.30 RESTORATIVE YOGA,  5.30 RESTORATIVE YOGA,  6.45pm MINDFULNESS MEDITATION/YOGA NIDRA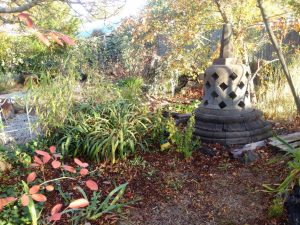 Although it is cold here, the sun is streaming in the windows… shortly I am going for a walk, and I am really looking forward to exploring the world in the sunshine.  The photo to the left is my garden with the stupa.
This morning I have been thinking about my ZEN DOODLE CLASSES, The Tao of Watercolour.  I think ZEN DOODLE says it all.  It is a wonderful way to express what we do.  Of course I always take things one step further, but the doodle and the colour is everything that you will do.  It is amazing what can be achieved when you turn the mind off for a little while, and let the colour lead the dance.  Chase it across the page…..
Please join us "ZEN DOODLING" on a Saturday as part of the MAKE YOUR OWN TAROT CARDS at 2pm, and as a stand alone class on a Tuesday afternoon at 1.30. and Mondays at 6.45pm.   Email me to register your interest: yogafirst@netcon.net.au

CARING
Caring for one another even in these times of COVID is almost impossible, simply because we don't know each other well enough to know how to help. The answer is for people with the spiritual gift of "caring", maybe this is you, you don't need a diploma – just a spoonful of wisdom.  Enough wisdom to give counsel or even just listen to the children of God.
In order to do this consistently with your community, or your yoga community you must get to know your group if you have any hope of giving them consistent wise counsel.
What does this have to do with SIMPLICITY (which seems to have been our focus)? The answer is a simple one – we cannot enter a life of simplicity without the help of one another.  Covid is helping because it is causing us to re-evaluate everything that we do and have.  For example, some people need to take a rest from study, even yoga study, but they will never do it unless someone tenderly urges them to take this step of simplification.  Others need to be encouraged to get out of their attitude of laziness, procrastination and excuses and get back into their study.
Please do not read this in a structured way.  I am not talking about rules, or "shoulds".  Just suggesting that we might try to find ways to receive and give help and counsel from people who have been gifted with the spiritual gifts of discernment and wisdom.  "The CARE OF SOULS" is an ancient ministry.  "Doing what you can, where you are, with what you have" (The Buddha).

I AM HERE FOR YOU – BE WHERE YOU ARE FOR OTHERS.
NAMASTE – JAHNE