Dear Yogis,
Sunday again, BHAGAVADGITA TIME.  By the time you read this, we will be well into the discussion… if you come in fast you may catch the last hour.  It will be worth it.  Although this is a repeat, it is not a recorded repeat.  I do it again, and because everyone has usually gone through the first one, it is quite a different class looking at the same topic.  This week (as last week) the focus is on GOD – KRSNA as He appears in the 'Gita.  We did plan to speak about YOGA and the 'Gita last week, but we didn't get around to it. Let's see what happens today.
Yesterday we had the most marvellous (ZOOM) MAKE YOUR OWN TAROT training.  Number three of a series of three.  The group decided to move forward and do three more.  In the first three classes, we decided on the theme, the design, the size and how we will print/publish.  We are now working towards packaging and making the book to go with the set.  However, you can start with us, even if you missed the first three, you can start fresh.  Having students who have done the beginning and can coach is always helpful, plus they move back and forth between solving design issues, or colours, and the book.  When you start the book you may realise a problem with the card design.  Whatever reason you come along, even if you like painting or collaging miniatures, it is worthwhile and fun.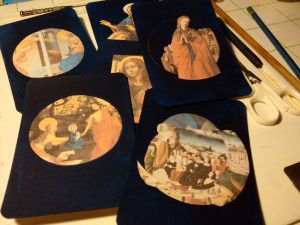 As I said yesterday, Christmas (from an artist's point of view) is just around the corner.  If you are going to make your own cards MAKE YOUR OWN TAROT may be just the class you are looking for.  The difference between a Christmas card and a tarot card is just the image.  I am also going to teach some simple watercolour ideas.  I resent paying heaps for a christmas/special occasion card unless it is an original artwork and supports an artist.  Be an artist, learn some simple techniques.  Let me know if you are interested in making your own cards, yoga cards or miniatures for gifts…. yogafirst@netcon.net.au.
In yoga we have the philosophy, we have the words, we have the images.. all you need to do is learn how to make them into miniature art works.  It is not as hard as you think.. and ALL ON ZOOM.
One thing I will be doing on Zoom is small portrait silhouettes – they are personal.. and take quite a lot of thinking about.  I did them earlier in the year – I am sure you remember.   Individuals or families.  Imagine what a wonderful Christmas card that would make.  Please book a sitting, or email a profile – individuals or family groups.  If I can see both eyes or both ears, it is not a profile.  I can even do silhouettes of houses or animals, or you in a yoga pose, but I need an emailed photo.. an interesting view of a house, or a profile of an animal.  You will get one original to frame and 10 cards to send to family and friends (you can order multiples).
Email for a booking or to enquire: yogafirst@netcon.net.au
YOGA CLASSES.
As we are coming out of Covid stages 3 and 4, students are asking how we will be moving forward in the studio.  The truth is, I am not sure.  It took me a while to get into zoom, and surprisingly I have gotten used to it, and love that I can work with students around the globe.  Can I afford to go back to teaching in a small classroom, taking up the studio space when I could keep doing what I do and teach my students from anywhere.
Then there is TIME.  In order to continue zoom classes, and add studio classes, and keep doing my various art works and teachings I would effectively be doubling my workload.  There is only one of me, and only a certain amount of energy.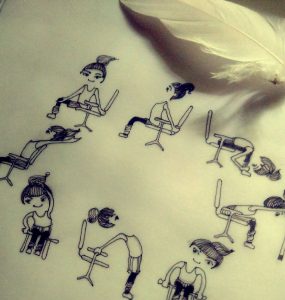 When I was younger (much younger) I taught 4 and 5 yoga classes a day because I had to raise children and all that entails.  That no longer applies.   There are students who want me to go back to teaching in the classroom, but I am not sure…you will have to let me know how YOU want me to go forward.  Yoga, Tarot, Silhouette Portraits, Watercolours, Yoga, Philosophy… I work with each of these… and enjoy them.
Then there is the fact that I have been teaching yoga for more than 50 years.  Which of you has been doing or teaching ANYTHING for that length of time? Committed to a community or to yoga (or even one job) for that length of time? Holding the space?   I am enjoying teaching art and tarot and other things I do.  It is refreshing to pass these skills along.  Not just yoga.  In this regard Covid has offered me a number of opportunities I did not know existed.
THINK ABOUT IT,
NAMASTE – JAHNE