Dear Yogis,
MY EMAIL CHANGEOVER to yogafirst2@bigpond.com
First thing update my email address in your contact list please.  Chariot which has been my provider from the first days I was on email (about 30 years ago I think), has been taken over by IINET and they have decided to close the "chariot business" down.  I watched them grow, and now they are GOING.  IInet gave us no options, they just said "goodbye".  Luckily I had Bigpond on standby.
So – I will swap to yogafirst2@bigpond.com .   This changeover is such a time consuming nuisance, but it has to be done.  It may be easier than I imagine, but I know it will be time consuming.  It would help if you would change over to this email address right now.  Thank you.
MORE DOLLS
"If you always do what interests you, at least one person is happy" – Kate Hepburn.
I am getting such joy and peace from making dolls.  It is the very first thing I have done in my life with out expectation, just love and open heart directs me.  I make them as they appear in my head, and trust that the reason will be made known in good time – not necessarily my time, and that is OK.  All I know is I am in a very satisfactory and peaceful place.  Even the Chariot dump didn't "ruffle the waters".  You can come see "the dolls that have changed me" next Saturday 16th July or Sunday 17th July between 2 and 4pm.  It is not like NAGORO in Japan, where the number of life-sized dolls outnumbers the population, although I am tempted to start.
This changeover into almost full time (at the moment) doll-making has been an exercise in understanding manifesting.  Along the way so many wonderful things are happening.  At Church I was asked if I would like a collection of fabrics and old doilies, and in a bag of odds and ends given a few days prior, when I went through it to see what I had,  there was a charm bracelet with a weeny sewing machine, scissors, a spool of thread and heaps of little sewing charms.  The universe giving me a nudge?
Of course I am going to be making dolls for the Ukraine and Refugees (I will need your help in this), and I think the more I do the more the path will make itself known to me.  In honour of this process I will be speaking tonite in Teacher Training about "Manifesting Meditations".  You can't easily manifest if you don't understand the process.  If you are interested, Please contact me on yogafirst2@bigpond.com and I will send you an ID.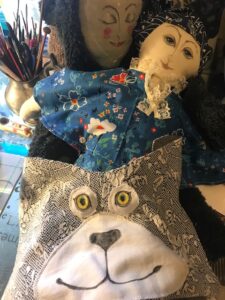 I actually remember making my first cloth doll for adults years ago, very different than what I make now.  More like a cloth sculpture than a doll to love and cuddle.  I don't think I even considered that aspect of doll-making in my early doll-making career, although when I made for my children I certainly did.
The dolls I made in the 1980's and onwards after the bushfires were what I called "Boudoir" dolls, fabric sculptures,  and certainly not for children.  I made a very large (80+cm tall) Russian Ballerina, stunning in black and red for the top of a grand piano, a "Mikado" doll for pride of place in a clients bedroom/sitting room.  I also made smaller unusual gilded and bejewelled "Flacko" dolls for hanging in studios, or  regal dolls sitting in chairs like real persons.  There were also tiny paper mâché doll sculptures.  I had exhibitions, but not one doll remains in my possession from this period.  People loved them, and bought them.
What I make now are "dolls to love and cuddle" no matter your age.  Dolls you can talk to.  They won't always answer back, but then, neither do your furry friends.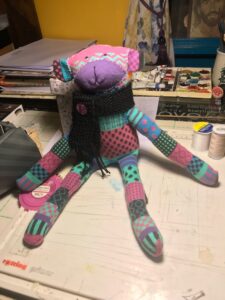 Maybe one will speak to you, although I am prepared to be surrounded by them as the late Mirka Mora was.  Her studio was bedecked with dolls – they were on every shelf, in every nook and cranny.  Perhaps like mine, they were her cloth children.  She also travelled across Victorian country towns with her doll making workshops.  I am not keen to travel, but I will do workshops here in the studio, using her dolls as a guide to what we do now.  I even have a doll made in her workshop.  She didn't pay much attention to faces, but they can be a feature of some of my dolls, although younger children are more interested in the feel of the doll.  The "sock doll" to the right I purchased in a bag of odds and ends.  It was horrible, ugly and badly made, but I liked the sock.  I took it to bits, re-stuffed and remade it, and called it MELVYN.
When children are denied dolls as sometimes the more orthodox Amish children are, they will find ways to make dolls for themselves.  Something to love and talk to.  Company, even inanimate.  These dolls are sometimes just a small log covered in cloth.  I am sure if you or I saw our children resorting to such an uncomfortable solution to their needs, it would send alarm bells off, it may even propel you into making a doll for them.  In the meantime, until you come to my workshops, try mine.  My bed has been overtaken by them, and the cat and I always say good nite to them one by one – and yes, she has her favourite!
CURRENT STUDIO/ZOOM SCHEDULE: (Studio Yoga – Mondays at 1pm are Full)  (PLEASE BOOK AHEAD – NO YOGA STUDIO DROP-INS, sorry)
ZOOM: Mon. 6.30 FREE OF CHARGE Teacher Training, Tues. Herb workshop 7.30 ($50 per month – part of the Bach Therapist Course only).
STUDIO YOGA:  Mon. 1pm (full) 2.15pm, Wed. 1pm Restorative(vacancy for July only), 2.15pm  Friday  2.15 Restorative. No Saturday classes the 16th July.
Fridays only – If you book you can join us at 3pm for a short meditation session on Fridays only.  Because it is the end of the class and I need to plan, you will need to book.
CONSULTATIONS: Zoom Tarot/Bach/QHHT HYPNOTHERAPY (a very powerful form of hypnotherapy), Bowen or a combo – by appointment only.  $85 To discuss or book,  email  yogafirst2@bigpond.com
MONTHLY LUNCHEON:   Thursday 28th July at 12noon at "The Vic" in Woodend (If you are running a bit late, relax, it's OK – drop in for dessert.  We have the meeting room, so it is separate and quieter).  Please let me know if you can join us.  We will post an invite closer to the day.   RSVP PLEASE
WEEKLY MEETINGS:  We have free Teacher Training zoomed on Mondays 6.30pm, and we began our yoga teacher asana class/meeting in the studio WHICH WE HAVE ORGANISED FOR EVERY SECOND SUNDAY BETWEEN 2 and 3pm.  NEXT STUDIO TEACHER TRAINING CLASS Sunday 31st July at 2pm.
DOLL MAKING CLASS – TIMES TO BE CONFIRMED.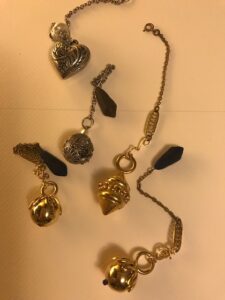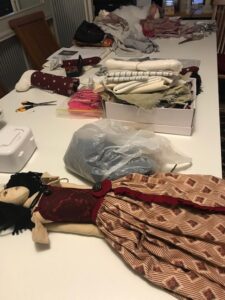 OPEN STUDIO. Saturday 16th and Sunday 17th July,  2pm to 4pm BOTH DAYS.   I have been looking forward to this right through Covid zooms.  
Please pop in between 2 and 4pm on Saturday or Sunday and see (purchase) paintings,  my dolls and other goodies – herbs, smoking herbs, vintage items and fabulous pendulums.  You can even have a PENDULUM lesson in using the one you purchase.  Of course there will be champers and Christmas nibbles.    It is after all July and we can have a CHRISTMAS IN JULY. .  You can even come and discuss a tarot booking,  But especially look at my dolls.
I WILL SEE YOU ON THE MAT (or zoom).
NAMASTE – JAHNE