Dear Yogis,
Things are changing Covid-wise but I must be mentally dead because it all seems a muddle to me.  Some people can do this, some can do that, some have no change – all except NSW who are doing whatever they feel like.  It is interesting that Dom Perrottet took a request to the GG for a December Federal Election.  Could be time.  I guess he would throw his hat in the ring and there would be no better time than now for Dom – he is the flavour of the month! Anything could happen.
SCHEDULE:
ZOOM: Monday 6.30 teacher training, Tuesday 7.30 CCP, Friday our (Luscious) tarot Class, Sunday CCP Study.
STUDIO: *Monday 1pm yoga , Wednesday 1pm (full), *Wednesday/*Friday 5.30 Yoga (we will be opening *Monday/*Wednesday and *Friday to more students…please book now).
There is a lot of interest in a STUDIO ART/TAROT CLASS.
Please email me.  Is the 6th of November at 2pm a possible for you? Email: yogafirst@netcon.net.au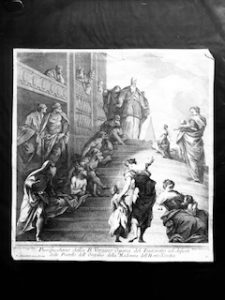 ART PRINTS

CHRISTMAS is coming and I have been scrambling through my storage archives (theoretically decluttering) and came across some vintage prints that have just been sitting waiting for me to do something….  I might have a little Studio Exhibition or just put them all up on Etsy or my web site and see if i can sell them.  I bought most overseas, and apart from being vintage, old and masterful…. they are lovely.
The one to the left is the largest 460mm x 440mm.  A print after  "The Presentation of the Virgin" by Tintoretto painted in about 1556..  By the look of all the mothers and babies in the picture, it doesn't mean now what it did then..  I can't see a date at all, and by a little mark in the bottom right hand corner,  it seems to be an artist's proof.    There is a little turn in the top right hand corner, and a tiny tear in the border top centre, but apart from that, little damage – extraordinary for a print that has done the miles that this ones has.. The original painting was mentioned in Vasari's work "The Lives of the Most Excellent Painters, Sculptors and Architects".
This print was pressed from a metal plate and you can see the plate mark all around.  Very fine work, black and white which has mellowed with time – but no foxing or insect damage.  I will post it in a roll but well packed – a larger flat pack would add too much to the postage costs.  The paper is substantial so should lay flat again easily for framing.  If you are interested, the cost $175 including postage and packing in Australia.
HIS DARK MATERIALS
On Sunday morning in our usual CCP STUDY GROUP, among other topics we discussed Philip Pullman's work "HIS DARK MATERIALS".  In this trilogy he floats the idea of "a republic of heaven".    We have to build the republic of heaven where we are, because for us there is no elsewhere … He (Lord Asriel) meant the kingdom of heaven was over, the kingdom of heaven was all finished.  We shouldn't live as if it mattered more than life in this world, because where we are is always the most important place…."
SEE YOU IN HEAVEN – ON THE MAT
NAMASTE, JAHNE