Hi there yogis,
I hope you didn't miss our herbal workshop last evening.  I took a slight detour to discuss three herbs – Damiana, and Brahmi (Gotu-kola Brahmi, and Bacopa monnieri "Brahmi").  It is rather confusing unless you go to a Ayurvedic site – they are not at all confused.  They are certainly not described in Mrs Grieves, because in England and probably the rest of Europe they are not common.  I have both varieties growing in my yard and doing rather well.  I have obviously got them in the right soil, and the right side of the garden.
Brahmi Gotu Kola is tri-doshic  rasavana (a rejuvenating herb) which works with each of the dosas to slow ageing and it is said that it is Gotu kola which gives elephants their great capacity for memory and longevity.  Are you heading out to your nursery today – don't bother to try and find it, you probably won't, unless you have an extraordinary nursery.  I have some which I can pot up if you would like to order a plant or two and come and collect it, or try on-line.
There have been medical and scientific reports coming out about the after-effects of Covid, and centred on changes to the brain.  I need every bit of brain power I can muster, and guess what,  Brahmi protects the brain.  I make BRAHMI PESTO that needs no heat to make so every bit of nutrition is available to me.  I am sorry that yogis are not interested – perhaps after covid, experiencing  "covid brain" fog they will be.
We also discussed DAMIANA, the herb that is said to rival Marijuana.  I have a lovely recipe for "Lovers Truffles".
DEHYDRATOR DAYS.
Just a reminder to get the dehydrator out from under the stairs.  I have lots of dehydrated food.  I am going to try dehydrated meat for the cat – it will save time and space if it works, plus if we get another lock down or if I get exposed to covid, I may need to hide away with the cat.  This makes it TOTALLY possible.   Mother Earth News Archives has information about DIY solar dehydrators.   You can use your oven, or like me, buy an electrical dehydrator (mine is about 25 years old and still humming along).  It is one of the hardest working appliances in the kitchen.  I could do a video, but goodness, how hard is it? Slice food, put it in the dehydrator, switch it on, wait.  I did have to explain to people how to rip up a sheet to make toilet wipes in the beginning of covid – maybe you don't know how to slice a plum.  My advice? Practice.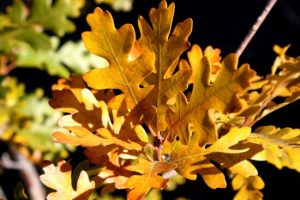 THIS IS THE SEASON OF THE OAK TREE.
It is the last to drop its leaves, but not before she has delivered barrow loads of acorns.  I was interested to learn that popular Eyck names,  Eyck and Van Eyck, mean "oak" and "of the oak", respectively. Oak trees were venerated in Druidic religion and mythology.
Around my garden and in this corner of the world because the oak makes sure that it will be replicated, and baby oak trees are always growing it is interesting to learn that at the birth of every oak tree a gnome is assigned to care for it – so when I take out a small oak, I have to ask pardon from the gnome, and hope they will find another oak…
To the Greeks, Romans, Celts, Slavs and Teutonic tribes the oak was foremost amongst venerated trees. In each case associated with the supreme god in their pantheon, oak being sacred to Zeus, Jupiter, Dagda, Perun and Thor, respectively. Each of these gods also had dominion over rain, thunder and lightning. It is no coincidence that oak trees are more prone to lightning strikes than many other trees. I understand that this is because of the tree's high water content and the fact that they are frequently the tallest living things in the landscape.  I have had one of my biggest oaks hit by lightning, and it feels like the end of the world – a real sound and light show.  The oak cannot be used afterwards as the lightning bakes the wood.
CURRENT SCHEDULE:
WEKLY STUDIO/ZOOM SCHEDULE  (PLEASE BOOK AHEAD – NO DROP-INS, sorry)
ZOOM: Mon. 6.30 Gita, Tues. Herb workshop 7.30, Friday 6.45 Tarot on holidays until 29th April.
STUDIO: Mon. 1pm (full), Wed. 1pm Restorative (full), Friday 1pm Hatha,  SATURDAY 1PM RESTORATIVE YOGA.
MONTHLY LUNCHEON:  Thursday 28TH APRIL at 12noon at "The Vic" in Woodend (If you are running a bit late, relax, it's OK – drop in for dessert).
CONSULTATIONS: Tarot/Bach/Bowen or a combo – by appointment only.  $85 including remedy (including postage if zooming)  Past-Life (QHHT taught by Dolores Cannon) $250 via email or in the studio.  The reading includes Time, date, place of the prior life. To discuss,  email  yogafirst@netcon.net.au
(TANTRIC) HERBS – HERB BAGS.  $53.50 for 7.  Each bag will last at least 2 days steeping.  This includes a Bach Flower Essence given to complement the tea.  This is not a usual tea, it is a Herbal remedy taken as tea in a tea bag – I cannot emphasise enough how essential I believe these are for your well being.  I take them myself EVERY DAY, and feel fabulous.  I think over time we will all get some form of covid, but I believe my herbs will help me through.  If I send them to you add $6 for postage.
Please make a zoom consult ($85 for the zoom including your tea).  I would prefer to see you so we can be sure the teas will suit you and help you on your road to wellness. You can email if you don't like zoom… and  YOU CAN ALWAYS DROP IN FOR HERBS TO ADD TO YOUR COLLECTION – DRIED, FRESH OR TO GROW…. A studio consult may include PPT MASSAGE or BOWEN, the herbs, tarot counselling… whatever is needed.  Email me for your next step yogafirst@netcon.net.au.
I HOPE TO SEE YOU ON THE MAT, OR IN THE STUDIO, EMAIL ME!
NAMASTE – JAHNE