Dear Yogis,
Another busy Wednesday has rolled around.
EASTER EGGS,

As I said I would do, I have made my Moroccan eggs.  These are not just beautiful, and look like they are made of wood, they are the way to preserve your eggs.  They have lasted in my fridge about 3 months, but usually, they don't get a chance to make near that because they are delicious.  With the long simmering, the yolks are golden and creamy, not crumbly as in usual boiled eggs.  The oils in the onion skins they are boiled with, penetrates the eggs I am told, hence the preservation.
HOW:  In a slow cooker (my preferred method) put 8 or more eggs, and the red skins from the outer skins of 8 large red onions.   Just barely cover with water, and then put on high for as many hours as you can (about 4) then leave overnight to cool. The next morning pull out the eggs, put the sloppy skins in the FOGO, and the water down the drain (unless you want to freeze it for making soup later).     I like the slow cooker because you can go away and not think about it.   The result is the marbled eggs as shown.  You could cover parts in tin foil which would resist the onion dye.  That would be interesting.
ART.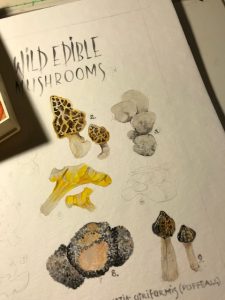 A collection of artwork that I'm making available as prints.
I have always uploaded my prints to market places on-line to sell  (albeit for a low percentage of the profit).   I was warned about thieving of my artwork – I didn't like to think about it, but it happens.  People downloading one copy and then making multiples for friends and clients, and calling them "originals".
To be safe I will now be selling  art from my own web site and sending you the hard copies, no downloads, and then you can be sure you are getting an original. Your print will be made especially for you, it will come with a certificate of authenticity, and it will be signed by me.
If you would like to legitimately support the artist (me), buy it from my web site. Bear in mind we AREN'T AMAZON and your order will 1. go to the printer, 2. then to me, 3. then to the post – It won't be with you tomorrow! Maximum wait 3 weeks, but often comes much quicker.
A4: 21cmx30cm $45.50
Original Print
Artist Signed
Sent flat pack and postage paid.
ON THURSDAY I will be loading my latest artworks on my two sites.  Please buy from these sites.  I will be changing etsy so you will only be able to purchase ART from me.  No ART downloads – just real, signed, authenticated originals from me direct.  WWW.YOGABEAUTIFUL.COM.AU and WWW.JHWILLIAMS.ONLINE
NB:  ST. MARY'S GUILD FASHION SHOW.
Wednesday 20th April at 10am Norma Richardson Hall, 15 Buckland St, Woodend.  Fashion Prices start at $29.95. Eftpos and credit cards only.  Light lunch, tea, coffee (no champagne I gather) $10 per person.  If you would like to attend, RSVP Syvia. Phone 0488776645.  She needs to know catering numbers.
NEW SCHEDULE:
WEKLY STUDIO/ZOOM SCHEDULE  (PLEASE BOOK AHEAD – NO DROP-INS)
ZOOM: Mon. 6.30 Gita, Tues. Herb workshop 7.30, Friday 6.45 Tarot on holidays until 29th April.
STUDIO: Mon.1pm (full), Wed. 1pm Restorative (full), Friday 1pm Hatha,  SATURDAY 1PM RESTORATIVE YOGA.
MONTHLY LUNCHEON:  Thursday 28TH APRIL at 12noon at "The Vic" in Woodend (If you are running a bit late, relax, it's OK – drop in for dessert).
CONSULTATIONS: Tarot/Bach/Bowen or a combo – by appointment only.  $85 plus remedy (and postage if zooming)
Past-Life (QHHT taught by Dolores Cannon) $250. Group Past Life readings by arrangement.  yogafirst@netcon.net.au
(TANTRIC) HERBS – TEA BAG OR ESSENCE.  $53.50 for 7.  Each bag will last at least 2 days steeping.  Essence given to complement the tea.  This is not a usual tea, it is a Herbal remedy taken as tea in a tea bag.  If I send them to you add $6 for postage.
All inclusive price (herb, zoom, postage) – $85
Please make a zoom consult so we can be sure the teas will suit you and help you on your road to wellness.  Email me for your next step yogafirst@netcon.net.au.
BUYING HERBS FOR YOUR CLINIC.  I am drying and preserving herbs and I have excess in some areas that I could sell to you for your own use.  Please email me with the names of the herbs you are searching for and I can give you my list and prices.  These are constantly changing according to herbs, availability and orders.  
I WILL SEE YOU ON THE MAT (or zoom).
NAMASTE – JAHNE