Dear Yogis,
ZOOM RUMI TONITE – don't miss it. 7.30pm. A "must be there!" time.

THE BREATH – LOSING WEIGHT feeling great with "the breath". Mondays 6.30pm:   Sounds too easy?  I have lost (at least) 5kg in a month.  I didn't realise because I don't weigh myself regularly, but I put on a ring I hadn't worn for ages and it just slipped on and off ANY finger! Amazing.  Then I weighed myself – 5kg off, and still dropping.  Better than a gastric band, a whole lot easier too.  I didn't concentrate because that covid increase happened because of less exercise – I thought eventually it would go… but wow! The breath? Who knew?  My reading said it would happen, and it did.  www.thebreath.online
If you want to join me as my own weight drops, a lifetime of good practice coming up.  This isn't short term, this is about longevity – Email your interest. yogafirst@netcon.net.au
YOGA/meditation/prayer:    
Yes, I said I wasn't going to clutter up your in-box.  But I just wanted you to see this.  It is a favourite of mine, and will help you moving forward…
The PRAYER OF Jabez.   1 chronicles 4 to 9.  In the middle of a set of boring  biblical chronologies, appears the wonderful prayer of Jabez, just four lines (another reason why I like it). The name defined the history of the child.  Jabez = pain.  His mother called him "PAIN".  Imagine how that made Jabez feel.  What the other kids called him.  Yet Jabez is a comeback story.  He moves from pain to great gain.  He doesn't let the pain have the last word. Great pain to great gain
The difference – the prayer for the middle of pain.
Lord bless me indeed

Enlarge my territories

Stay with me

Keep evil from me
1. BLESS ME INDEED:– If I am not blessed I can't bless others.  I look to you God, I need you.  It is OK to ask God to bless you.  Bless me a lot I need it.  When you ask for Gods blessing, you are asking for something that only God can give.  We are asking him to bless us so that we can be a blessing.
When we are going through pain we can't see the blessings.  God wants to bring us amazing things in the pain.
2.EXPAND YOUR BUSINESS so I can expand your kingdom.  Expand your influence so you can inspire others.  In pain we want to batten down the hatches.  God wants us to look up and out.  Enlarge your opportunities so you can make a difference to those around you. Just ask – "God grow me in every area of my life".  I know it may not make sense when we are on the way to being defeated by difficulties, however, it is during pain that God wants us to grow the most.
It is about being a blessing in the middle of pain.  In the middle of what is dying.  Expansion in the area of pain grows our character.
3.PRAY THAT YOUR HAND WOULD BE WITH ME: Don't get overwhelmed.  Stepping out in faith in the middle of your pain.  Especially when you feel inadequate.  Reach out and ask – "God I need your hand of grace and favour because without your hand I cannot do this".  Then step out in faith, and like Jabez write a new story.  Being honest with yourself and God "Help I can't do this".  It is when you have got the end of yourself God begins.  You don't have the strength alone.  This is where your story begins.
It is not my strength, not my intellect it is your strength to do what I cannot do on my own.
4.KEEP ME FROM EVIL: When you are being blessed, when God is expanding you, the negative forces will try to derail you.  Keep me from evil, and GUIDE me into your path.  God can't use you when you are too proud.  "Don't let me take the wrong path.  Keep me from the wrong direction".  Sometimes in order to get me to take the right path He has to slam (the wrong) door in my face.
I challenge you to pray the prayer of Jabez for thirty days.
Start looking for your blessing…  there is a "waiting chapter". During the delay we wonder if H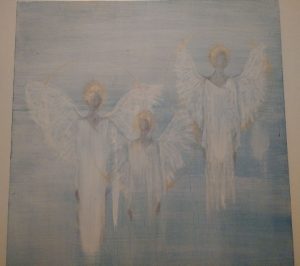 e will come through.  "Things will come to pass, they will not be overdue by even one day" –  (Habbakuk)
Don't give up, the blessing is just around the corner.  When you are out of the "green room" the testing chapter before triumph comes along, then you will reap a harvest of blessing.  Don't give up just before the blessing.  The blessing is coming.  Don't miss the harvest of blessing.  The longer the chapter of waiting the bigger the wave of blessing.  Like a sunami.  The wave draws back and then sweeps forward carrying everything with it.  Stand in faith and trust.
Is God WAITING ON YOU  to start looking for the blessing?
NAMASTE – JAHNE