Dear Yogis,
ZOOM
TODAY (TUESDAY):  7.30 The CHAKRAS (a further investigation).  I am hoping this can morph into an ART AND YOGA EXPERIENCE, working through the chakras using art, yoga movement and meditation.
WEDNESDAY: 12.30 RESTORATIVE YOGA, 5.30 RESTORATIVE YOGA, 6.45 MINDFULNESS MEDITATION
WHERE HAVE YOU BEEN?
We have been doing some exciting things whilst we were waiting for you to come home.
"ART AND YOGA" – This is three session ZOOM Workshop experience (and in the studio when we can).  Starting Sunday 25th October 1.30 to 4.30pm for three sessions ($152.50).  We will be working through the chakras using art and yoga.  This is suitable for all levels of experience.  The yoga will be "KUNDALINI" style yoga, and the art is an extension of ZEN DOODLING.
TAROT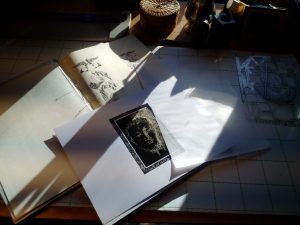 This might not seem applicable to where you are at, but in this class we have a student making tarot cards, but we also have students making Affirmation Cards, Mindfulness Cards, and GITA Tarot cards.  Cards that can be used in the yoga classroom when we get back.
They are taking this class down really exciting paths using watercolours, doodling, collage, paper ripping… Learning everything there is to know about making cards, greeting cards and publishing – even making the little book that goes with the cards.
Join us even if you think you are not artistic – you might be surprised.
PENDULUM BOARDS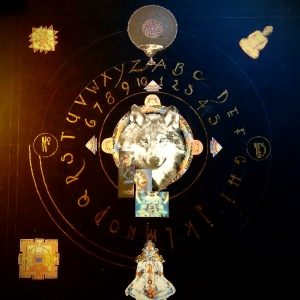 When the students are ready for a new project and when Stages 3/4 are lifted slightly we will start new projects.  Our students are having a great time with what started out as a tarot card making, and  has evolved in all directions – I am just the guide.  Next we will make PENDULUM BOARDS.  These can be used with the pendulum, but they are also great artworks which can be featured on a wall, or used as a tabletop under glass.  There are many ways they can be used.
To the right is a photo of my current board project.  I love making them as they incorporate collage, paint, pencils.. a real mixed media bag.  They can be constructed on thick board or as mine are, on plywood.  If you want to join in, you can at any point.  The cost is $50 for three classes.  After the first three classes the students could have wandered off, but we have been going for quite a number of repeats, so it must be fun.  JOIN US.
I am starting more classes starting next Monday 12th at 6.45pm, Saturdays at 10am, and the regular Saturday  2pm class. Let me know if you are interested and we will go from there.
WALKING THE SACRED PATH OF "MAKING ART"…
Making and contemplating the Pendulum Board for me is a metaphor for the Spiritual Journey and as a tool for transformation. "Making" quiets my mind and opens my soul.  WALKING THE SACRED PATH OF "MAKING" shares the discoveries of modern day seekers.  Our classes show us the potential of art to inspire change and renewal, and serves as a guide to help us develop the higher levels of awareness we need to survive the place we find ourselves.  A marriage between soul and spirit.
SEE YOU IN CLASS.
NAMASTE JAHNE