Dear Yogis,
You missed a fantastic CCP meeting yesterday.  One thing came out of it for me.   In order to be a Hero there is only one thing you need to do – SHOW UP.  So – WHERE WERE YOU?
ZOOM SCHEDULE
Friday 6.45pm – Tarot class  Sunday 10am – CCP Class The Tibetan Book of the dead (everything "living as well as dying").
Monday 6.30 Mary Magdalen
STUDIO
Monday 1pm,  Wednesday 5.30, Friday 5.30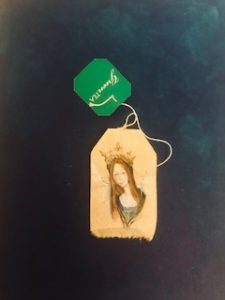 Don't forget the SALE DAY on the 22nd August between 2 and 4pm.
I will be selling off some massage equipment I no longer use, yoga bits and bobs I don't use, and lots of art – Tarot Art and Art on TeaBags. You should be able to actually come to the studio and browse by then.  Even if you only want to come and say hi, have a champers and cheese, you will be so welcome after these months of COVID ESTRANGEMENT.
I have written A LITTLE BLACK BOOK OF EVERYTHING.
For a small investment you can protect the things you need to re-build a life no matter what has befallen you.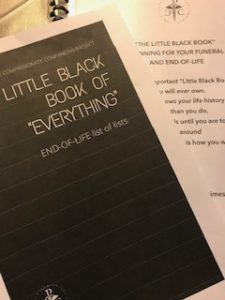 This book contains lists for everything that would needed by a carer, partner (or even you) in case of your hospitalisation or executor at end-of-life. It would also be a gold-mine in case of sudden crisis like a major fire, bush fire, flood or other catastrophe.  I lost my house in 1983 bushfires, and I know that the insurance assessors at the time swooped in and were able to take advantage of the fact that few of us had lists of what we owned, our assets and other entry points to our lives and property.  If I had a book like this, it would have saved me many months of stress, and thousands of dollars.  If you don't know what you have you can't claim it (or find it  – in the case of passwords, codes or reference numbers).
I have been inspired by students who have had great stress on the death of a loved one and the realisation that they know nothing about how to run the financial side of life, or what the partner wanted at end-of-life, except for the big things covered by a Will – which by the way tell you what needs to happen to the assets,  but doesn't cover passwords etc.  How is the executor going to pay for the funeral (or weekly expenses)  when the bank has frozen the assets – which is routine on the death of a partner until the dust clears?  Do you know what sort of funeral you partner wants, what happens to the pets, insurance passwords???  There is so much to know.
One of my students was so "cared for" that the bank didn't recognise her and wouldn't let her near her own accounts on the death of her long time partner.  She was adrift with no passwords, codes, references, signatories.. she knew nothing.  It looks month to rebuild her life and assets during which time she had to rely on relatives and friends for basic support.  It happens.  This is not an isolated case.  What would you do if (like me) the house burned down and you and your children were left with what you are wearing?  Or, what would you do if you partner suddenly and unexpectedly died.  Would you be able to go to your lawyer or accountant and immediately start to rebuild a life?
This booklet isn't a substitute for a Will.  Somewhere safe you need  1.  a Will,  2.  a medical End-of-Life Directive and 3.  The LITTLE BLACK BOOK of EVERYTHING.  When you have these three things you can more easily build a life going forward no matter what has happened.
This book is available on Etsy as an EBook for download, or you can buy a hard copy.   In this time of covid and stress, this is a very important document, and everyone should have a copy filed close to their will.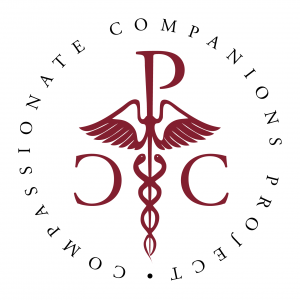 CCP CLASS:  We have been looking at all the different ways you can be a Compassionate Companion, what it means, and what it may mean to you, and importantly – What area will you specialise in?  All this whilst still studying the ancient texts, bringing them into the 21st century, making them personal.  If you want to extend your yoga practice into this new area (so needed at the present), then join our course – it's not too late, you can catch up.
See you on Zoom, or in the Studio.
NAMASTE. JAHNE