Dear Yogis,
Here we are, day four of the lock-down.  Although it was initially flagged that it may be in place until the 26th Feb not 17/18, nothing more has been said.  So we are in suspense.  Probably, as things are going well the government will be anxious to end the lockdown asap.
That being as it may, we keep on keeping on.  We still have our classes via zoom for those who want to do it this way, postponed for those who want to come to class in the studio and art etc on zoom as usual, and times below….
ZOOM/STUDIO CLASSES THIS WEEK.  Go to the home page to choose your class, pay or email to enquire.
MONDAY: 6.30 Last nite was our last Hypermobility class.  Next week will be replacing this with a class on THE BREATH.  A series of three studies following on from the workshop on the 20th
TUESDAY: 7.30pm Our Beautiful RUMI CLASS tonite.  This is such a wonderful study, and I invite you to join us even if you think it wouldn't interest you or apply to you.  If you have been in love, want to be in love, if you meditate (if you think), you will resonate to this study.
TUESDAY BOTANICAL ART CLASS:  I will be available from next week to have an art class on Tuesday afternoon.  If you are not able to come to the Botanical Saturday Art Class, you may be able to join us on Tuesday afternoon.  They can be interchangeable.  If you miss Saturday, you can make up on Tuesday.
SATURDAY BREATH WORKSHOP: 20th February (this saturday)10am.  You may think you know everything about your breath.  Think again.  I knew hardly anything, and I meditate every day, read everyday, study everyday.  I am so excited to bring this study to you.
SATURDAY 2PM:  Day one of our Botanical art class.  If you want to come, there is a materials list.  Email me. I am told by those students who keep track that the Studio date is the 27th.  We could move that along… depends who comes to class.
SUNDAY 10AM:  THE GITA STUDY.  A highlight of the week. If you are a yoga teacher, if you are a thinking person, if you want to succeed in your life, then you would do well to join us.
ARE YOU IN HIDING?
Some of my students say they have "FOGO".  Fear Of Going Out!  For many people, "religion" is a place to hide.  A warm, secure place to hide from fear – and there is a lot of fear and anxiety in the world now.   Hiding can be a comfortable way to live – If you are convinced you have the answers, there is no great need to ask questions.  If you live in a narrow, circumscribed world there is no need, no passion to explore new ideas.
Maybe like you, my parents especially my mother's family stayed close to home.  They were born in a certain street with cousins and relatives around them in that street, and rarely did people move away from what could be seen as an extended family.  They didn't go long distances.  They lived, wed, had babies, and died in the house their parents died in.  Few people moved outside the safety of their tribe.  Not my folk.  My mother moved halfway around the world.  She didn't want to be constrained by the judgement of her relatives and neighbours.  She moved her body – but she didn't move her mind, and interestingly when death was close, she went physically back to that street!  She was not curious, and was content to remain within the parameters she designed for herself around religious and social rules.  My mum read (and later watched) only "feel good" stories, her mind curtailed by her schooling and her church which manipulated our supernatural natures.
For things to change fundamentally for her, and for you to change and grow, a number of things need to happen.
You need a purpose for your life

.  Something that pushes you forward out of your comfort zone, and gives your life meaning above the need to earn money.. above survival.

You need a role model, teacher or a mentor.

 If you don't know you can change and grow, you won't change or grow.

You need a Sangha

– A community.  A group who will explain you to you, and who will encourage you to expand your mind into areas that will challenge you, and support you as the going gets tough –  as it will.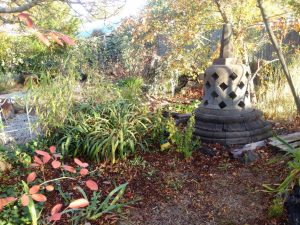 No matter what or where your belief systems lives, I hope like me you have been called into an ABUNDANT LIFE,  irrespective of the circumstances you find yourselves in.  We are invited to  experience that wholeness and freedom which allows us to give away our life in both love and service to others.  Paul in his letters in the Bible to the  community of Colossians said that we are meant to be partakers of "The inheritance of the Saints in Light" (Col.1.12).  This love and service will allow you to grow beyond your survival fears deeply ingrained in our evolutionary history,  which often cause us to victimise people who are different or who think differently, instead of seeing them as a mirror of ourselves.
Today I am excited to be in a place where spirituality is being explored as never before, deeper than we have ever witnessed.   The task of faith has become therefore not the task of believing the UNBELIEVABLE, but the task of living, loving and being.  The mission is no longer to convert, it is to transform the world one yogi at a time, and thus get closer to to the source of life, the source of love and find THE COURAGE TO BE…
"I feel myself so much part of everything living that I am not the least concerned with the beginning or ending of the concrete existence of any one person in this eternal flow…" (- Albert Einstein).
I WILL MEET YOU THERE. ON THE MAT. 
NAMASTE.  JAHNE