THE AUSTRALASIAN YOGA INSTITUTE IS MISSION DRIVEN AND MEMBER SUPPORTED. BECOME A REGISTERED MEMBER TODAY.
We are trying to make sense of our emails and phones – it isn't simple.  Please transfer all your account queries to Jacky at yogafirst@optusnet.com.au If you want a direct answer from me, then as usual, yogafirst@netcon.net.au.
THE YOGA OF ART…..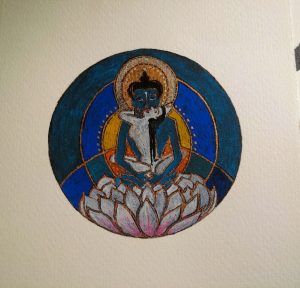 The art I am doing at the moment is miniatures of The Buddha (and other religious/spiritual figures that come through) .  I am going to put them up on   the Yogabeautiful blog, and I will be explaining the various symbols, so that you can see and understand what I am doing, and how it relates to your yoga and your teaching.  Check the blog regularly.
.and Kombucha I am also preparing my latest (and one of the largest) books. It will not be on-line. "THE YOGA OF KOMBUCHA". Kombucha with herbs, talking about the chakras I have researched, and the doshas and how the various kombucha recipes boost these chakras, and the effects they have on the doshas.
KOMBUCHA CLASS.
Our UN-planned class after teacher training was rewarding. It was great. A few people took Scobies and some stayed afterwards to learn about Tofu (easy peasy to make).
Now, if you want a class, please make an appointment with me. There is an hourly charge, however, can bring three friends, and pay $20 each… You will get a scobie and a bottle of Kombucha to take home. I will also show you how to make yoghurt, and Tofu.
YOGA AT THE STUDIO and the Church
As always, the Church group is always changing (no news there). One day 5 then the next day 2 then the next day 7. This is because there is no specified charge, and people don't value what they don't pay for. I will keep on doing the classes no matter the numbers, However, the few who are regulars are now bringing family and friends. This is what we hope for. Winter is always the best for free classes because there is not much else on. The students are not committed to yoga, but there is no-where else to go! Not ideal, but everyone starts somewhere.
WE do what we can with what we have, where we are (as the Buddha says).
STUDIO CLASSES .
The classes are coming back after the school holidays which is wonderful. Even if we had 8 classes a day it wouldn't satisfy everyone. There would always be someone who wanted a midnite class!
Please keep in mind that the consecutive class passes are CONSECUTIVE. I love a phone call to alert me if you can't come, but that does not mean that the pass will extend for one extra week free. CONSECUTIVE IS CONSECUTIVE.
A SCAM
I have been getting people turning up on my doorstep, sent by Macdonalds – expecting yoga as winnings from the new Monopoly Game.  Unfortunately, the group running the yoga part of the prizes (YOGA HIVE) did not tell me of the scheme or their involvement – or mine!!!!, and so they have been sending people to me who expect a free yoga class, unfortunately at times when i have no yoga classes!  They told the people a lot of half truths, and untruths, like "a booking had been made for them at my studio on-line and I  would be expecting them".  You can't make a booking for me on-line, and I was therefore not expecting them.  Disconcerting when a client turns up unannounced to an expected evening class and you are having dinner!
If you have dealings with YOGA HIVE,  please check your details with them, and know exactly what they are selling on your behalf.  If you can have on-line bookings, if your studio is such that people "just popping in" to take advantage of a prize is OK, then you will love this.  It doesn't suit everyone, it doesn't suit me.
ART HEALS
I am holding a free demonstration of my work on board with oil pastels at THE ALCHEMIST art shop in Sunbury. The important part of the class is about preparing the boards. Anyone can get a good result on a board that has been properly prepared, AND if they use the right brushes for the right job.    Saturday 13th October at 4pm. Yes, there has been a time change.
If you want to learn on a regular basis….Experience the joy of painting and drawing by learning to trust your intuitive self with me!. Painting this natural, gentle way allows you to let go of the inner critic that keeps you away from your full aliveness and creativity. The oil pastels are a way of achieving a quick result, and you get to touch and smooch the medium across the paper. It is like painting with lipstick!   All you need is the desire to paint, and the courage to express yourself. No art experience necessary.
TUESDAYS from7pm- 9pm
COST $250 for 5 classes.  We experiment every week with new materials and skills to enhance your finished image.
All materials will be provided.  By the end of the class you will have a unique image to take home, and frame to put in your own meditation room. Maybe good enough, stunning enough to be an heirloom. No painting experience needed. If you are nimble enough to sign your own name, you can do these classes.
SATURDAYS 9am SUMII (ZEN YOGA) BRUSHPAINTING – "ONE BREATH ONE LINE" $20 per session.     This is the traditional painting on rice paper, but once the fundamentals are achieved, with a twist. On the longer classes, we will be doing it the "zen way" and painting things that can't be painted. Love, joy, yoga, spirit, speed…etc etc.   No right, no wrong, just what you can do. Your expression. We will be using traditional materials, we will be doing yoga breathing, AND A PAINTING will be the result.. Grind the ink, use the brush, paint the painting….. Sounds easy, BUT as in yoga, the foundations are everything.
THE ALCHEMIST ART STORE, Sunbury
(just around the corner from Aldi in Gap Road. A fabulous store which deserves a visit.   Demonstration from me…..Saturday 13th October at 4pm.
SCULPTURE REQUEST:
I have let it be known that we are looking for a sculptor or an iron worker/blacksmith. THE BLUE LADY totally shattered in the cold this year, and as she was our logo and a landmark in our town for 25 years, I am trying to replace her in some way. I have been donated an almost full size Jesus statue (concrete – probably rescued from an old catholic grotto) which I am going to paint in cobalt, and decorate in interfaith symbols ("OM" being one). The sculptor needs to build a frame to raise and support this very heavy statue. No crosses please – Jesus has been there and I don't want to send him back. If you are interested in tendering for this job, please email me at yogafirst@netcon.net.au. No scribbles on the back of an envelope please, this is a serious job, and I want to know everything about how you would execute the brief.
THE LATEST ART SHOW – THE REVELATION TAROT.
SHOWING NOW:  An exhibition and sale of the original tarot cards. This cannot be repeated. If you are unable to come to the show, and would like to buy a framed card, you can, just let me know which is your favourite card and I will put it away for you – all $175 plus postage. You can come and collect it, or I can post it , I can take them out of the fame if you want it posted.  Call me to register your interest:   yogafirst@netcon.net.au
MY PENDULUM
My ETSY shop sells everything pendulum and this week I am putting up some new pearly ones. You will love them. Pendulums you can carry with you at all times.
The Pendulum explained.  If you want a private session – (or we can do it via email) – We can identify additional minerals and supplements, balance your diet, test for food sensitivities…. Health, business whatever. $55 one question, $75 two questions $150 for a general life reading for people who are stuck. On the farm I never made a change without dowsing first..   If you want a life reading (or a past life reading) , your house made well from underground streams or geopathic stress, or want your garden explored for sculpture, rock or major tree placement sites… I can help you.
If you want a lovely pendulum I have made a few very interesting, unique pendulums and have put them on etsy. www.myyogabooks.etsy.com
Why Register with THE AUSTRALASIAN YOGA INSTITUTE? 
It is about LINEAGE. You trained with us, you are a part of our lineage (or we are a part of yours), Registration supports this. PLEASE, PLEASE CHECK YOUR REGISTRATION. You need to be currently registered for your insurance to be valid, and you will need to supply a copy of a valid registration to be insured.   Please check your insurance requirements – keep up to date. They change quickly.
REGISTRATION – CONTINUING EDUCATION REQUIREMENT.  THIS APPLIES TO EVERYONE.
We have fallen in line with other organisations and ask people who are registered with us and wish to re-register to do at least one short course in the year as a continuing education requirement. You need to keep up. You can do one of my little courses on ETSY, or someone else's, doesn't have to be onerous, just something to keep you on your academic toes so to speak. Just watching a DVD won't be enough unless you actually write a report on what you watched and why you watched it – the outcome – how it changed how you do what you do.
YOGA WITH JAHNE…..CLASS TIMES – all STUDIO classes $20
MONDAY: Church,      11am Hatha.12pm lunch/1pm meditation (free or by donation)
                                          5.30 NEW CLASS! Restorative at the Studio     6.30pm Hatha at the studio
TUESDAY                     7pm Thangka painting Class held at The Home Studio.
WEDNESDAY            12.30 HATHA-YOGA     5.30pm Gentle Restorative at home Studio.    6.30pm Hatha at the home Studio.
FRIDAY                       3pm at the Church
                                        5.30 Restorative then 6.30 pm Hatha at Studio
SATURDAY                9am Sumii ZEN YOGA PAINTING (60min Class), $30 per class,
10am Hatha Yoga.   12.30 Restorative.
YOGA COST:
Yoga $20 per Class Or CLASS PASS – $135 per 10 CONSECUTIVE classes for long time students. New students will pay $165 per 10 class pass (normally $200) After 3 years as a student with us, the cheaper rate will apply. Teacher Training is also $20.
UNITING CHURCH CLASSES (FREE or by donation)
Next door to the Police Station, Forest Road, Woodend.
Monday: 11am Hatha Yoga, 12noon lunch and 1pm meditation at Church.
Friday: 3pm Hatha Yoga
PARKING HOME STUDIO – 37 Morris Road, Woodend.
PLEASE, PLEASE Park on white gravel in front of the studio. I had the garden made into an attractive parking lot. When it was lawn you didn't even think about parking on the lawn or the nature strip. Now it is especially for parking, you park blocks away and walk. What is this about? If my park places are full, you can park in the drive-way directly opposite in front of double grey garage rolladoors. Not in front of neighbours driveways please.
MONTHLY TEACHER TRAINING AT THE HOME STUDIO:
The next one will be on Sunday 4th November , 2pm to 4pm  at my home studio (37 Morris Road in Woodend – yes, it is Cup Weekend – but I am still having Teacher Training). There is no need to book. Bring writing materials, and be early. If you are teacher Training student then the cost of the afternoon is $20 (to bring it in line with yoga classes). This fee applies to everyone. If you are a visitor and not formally a student teacher with us then the cost is $30 – for a 2 hour class! Come.
BENDIGO Teacher Training classes – Next class is Tuesday 6th November at 3.30pm Turn at the Metricon building on the highway in Kangaroo Flat. It is a traffic light intersection, just up from Bunnings. Crusoeden is the building behind Metricon building, and faces Church Street. It's easy to find. Cost: $20 per class (to bring it in line with the cost of a yoga class) for everyone who attends – thank you. (Directors – Jayne Boyle  – crusoedenbody@bigpond.com).  Regular classes held – please email for timetable.
UNHOMOGENISED AHIMSA MILK
If you are REALLY into great yoghurt, cream, butter or cottage cheese (and milk of course), then go no further than MOTHERCOWDAIRY run by the Hare Krishna people. The milk comes from totally free range cows, it is hormone and antibiotic free, is rich and creamy, naturally high in A2 and calcium and is a fair-go for local farmers. For your local stockiest, email: info@mothercowdairy.com.au
CALCIUM WITHOUT PILLS
Of course you could use the milk above, but if you are milk-free, here is an idea that came out of our discussions on Sunday Teacher Training.
Get a jar, and put a few eggs in the jar (4 perhaps?) cover the eggs with fresh squeezed lemon juice. Leave it for a week or so, turning at least once a day, very gently. The shells will dissolve somewhat (leaving the eggs intact). After a week or so, gently pour off the lemon juice, and use about 15ml perday in a drink – your total calcium requirement is in this lemon/egg shell juice. You can use the eggs in cooking.
REALLY HELPFUL BOOKS:
ETSY, ETSY www.myyogabooks.etsy.com
I write books to help you in your course. Please download them, and then please use them in answering your modules. WATCH OUT FOR THE NEXT ONE – NARRATIVE MEDICINE. A certificate course. If you teach yoga, you need this. No excuses.
Chakras – Your personal power house.Yamas – The guide for life * Restorative Yoga * Yin Yoga and Yin Yoga for KidsRed String of FateChakra Enhancing oil
Rose Petal Jam – a Cookbook * How to be a Yoga Teacher by Home StudyThe Sacro Cranial Connection * Tea leaf Reading – The Chart * Yoga for pregnancy
* 5 ELEMENT YOGA (The 5 Tibetans) + charts  * SacroCranial Connection * and more….
Please never imagine that I don't read your modules – I do. If you misquote, if you don't understand (no matter how many pages you do) I will pick it up. What will you find on ETSY? There are lots of books there to help you in your progress to graduation. If you do your course WITHOUT reading the hypermobility books, you will find your work being questioned.
EMAIL/POST:  Please use the email address  yogafirst@optusnet.com.au  for anything to do with accounts,  or the usual yogafirst@netcon.net.au. to get to me. If you do want to speak to me personally, then email, make a time suitable for both of us, and then we can chat.  If you do it this way, rather than just "wing it", you can be reasonably sure I have time, and you will get my attention.  POSTAL ADDRESS is not at my home –Please address all land mail to PO Box 14, Mt.Macedon.  Vic. 3441.  Until you see a change written here in large letters, that is where it will be.
Don't forget to Register if you are teaching even if you have not graduated (especially if you have not graduated), insure and re-subscribe to the videos every 12 months.   Don't leave these to the last minute.
Love and Blessings
Jahne…….
Newsletter sent out by The Australasian Yoga Institute, www.yogabeautiful.com.au