YOGABEAUTIFUL NEWS from THE STUDIO, WOODEND.
BACK HOME TO THE STUDIO:
So many of you are coming back to my yoga classes at home, and I have new clients responding….. Thank you. It certainly validates making the home studio so warm and welcoming…
The Bentinck always put off repairs, but we get ours done ASAP. Talking of that. A few years ago I had a dimmer switch put on our studio lights, trouble was it never really dimmed – at a certain point it strobed! I worked around it. Electricians aren't cheap. Last week I had a different electrician come to fix the problem. He put a fabulous new switch in, but the strobing still happened. He said he would have to go back to the drawing board. On Thursday I went for lunch with my daughter – she identified the problem immediately without seeing the switch! WRONG GLOBES! So I paid $4.30 at Coles and got new DIMMABLE globes (who knew?) and the problem was fixed. If only I had known that I could have saved quite a lot of money. Now I can dim the lights for a lovely soft, meditation atmosphere.
We did a test run last nite and it was beautiful.
Below is a photo of the Buddha on a  typical, wet, cold,  winter saturday at the Studio.  Look for the flags, follow the path behind the carport to the studio entrance (not the front door).  Please park anywhere on the gravel or the nature strip.  There is plenty of room if you consider someone parking behind you..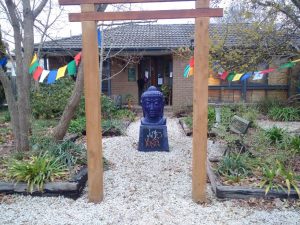 PAINTING CLASSES:
Our Tuesday night MEDITATION MANDALA painting classes are progressing fabulously well, and we are booking for the next set of 5 classes for September. 4th September to 2nd October.
Go to www.jahnehopewilliams.com to see more, and email me to book your spot.
TUESDAYS from 7pm- 9pm
COST $250 for 5 classes –
All materials will be provided. Start Date: 4th September
By the end of the class you will have a unique image to take home, and frame to put in your own meditation room. Maybe good enough, stunning enough to be an heirloom. No painting experience needed. If you are nimble enough to sign your own name, you can do these classes.
SUMII (ZEN YOGA) BRUSHPAINTING – "ONE BREATH ONE LINE"
Fridays 12.30 and 6.30pm and Saturdays at 2.30.
This is the traditional painting on rice paper, but with a twist. We will be doing it the "zen way" and painting things that can't be painted. Love, joy, yoga, spirit, speed…etc etc.   No right, no wrong, just what you can do. Your expression. We will be using traditional materials, we will be doing yoga breathing, AND A PAINTING will be the result.. Grind the ink, use the brush, paint the painting….. Sounds easy, BUT as in yoga, the foundations are everything.
PAINTINGS, THE TAROT and the THE FOUNDATION
If you were unable to come to the show – The good news it is ON-GOING. At the end of this month I will be mounting show featuring my REVELATION Tarot deck. I have been producing this for 10 and more years (time flies). We sell to clients around the world and we are featured in the museum of tarot in Madrid! Even Google has taken us up in the Black and White Tarot entries.   Original framed cards, and the deck will be available at the end of the month. Keep watching this news and we will keep you informed of our progress, and exhibition days. If you would like to buy, or donate please direct debit any amount to The GitaJaia Yoga Foundation, Commonwealth Bank in Woodend. 063806 10200584. Any amount will help, no matter how small.
Please come to the show, please buy a painting. It all goes to The Foundation.
MY PENDULUM
The late Mike Belstead gave me a pendulum. Not just a pendulum, it was the only pendulum I have ever had that actually recognized me, and trembled when I held it. And when I started teaching Arrow clients, it disappeared. I bought other, but they weren't the same. Last night, I was organizing my drawing table (something I do frequently – I can't do mess), and bingo, there it was, right in front of me. We had a great reconnection, and it is now around my neck again. I can now consult with my friend assisting. Please… if you want a session, WE CAN DO.   Even at a distance. Health, business whatever. $55 one question, $75 two questions $150 for a general life reading for people who are stuck.
THE UNITING CHURCH.
Monday morning I spent time between classes helping clear a backlog of donated op-shop items at The Uniting Church. It may not sound like fun, but it was. If you can donate time at your local op-shop, then do. It will help you as well as The Op Shop.
YOGA WITH JAHNE…..CLASS TIMES – all STUDIO classes $20.     CHANGES, CHANGES…
MONDAY – FREE hatha 11am,  free lunch at 12,  free meditation at 1pm at Uniting church.
MONDAY –   6.30pm Hatha at the studio
TUESDAY     (NO 6.30 Yoga) 7pm now a Thangka painting Class held at The Home Studio.
WED.           12.30 Philosophy class at The Home Studio ($20) –  THIS WILL BE HATHA-YOGA FROM 15th AUGUST.
5.30pm Gentle Restorative at home Studio.
6.30pm Hatha at the home Studio.
FRIDAY         3pm FREE YOGA AT THE UNITING CHURCH
6.30pm Meditation Class at the Studio
From 17th August this will be a Sumii ZEN YOGA painting class
                        With an earlier painting class on Fridays at 12.30
SAT.               9am Sumii ZEN YOGA PAINTING (60min Class), $30 per class, 10am Hatha Yoga.
12.30 Restorative.
2.30 Sumii ZEN YOGA PAINTING (90min class) $175 for 5 weeks.
MATERIALS FOR PAINTING CLASSES – everything provided.
COST:
Yoga $20 per Class Or CLASS PASS – $135 per 10 CONSECUTIVE classes.
This price will apply during the transition, and then will apply to long term students. New students will pay $165 per 10 class pass (normally $200) After 3 years as a student with us, the cheaper rate will apply.
Teacher Training, etc $20     SUMII –
UNITING CHURCH CLASSES (FREE or by donation)
Next door to the Police Station, Forest Road, Woodend.
Monday: 11am Hatha Yoga, 12noon lunch and 1pm meditation at Church.
Friday: 3pm Hatha Yoga
PARKING HOME STUDIO – 37 Morris Road, Woodend.
Park on white gravel in front of the studio, or in the drive-way directly opposite in front of double grey garage rolladoors. Not in front of neighbours driveways please.
REALLY HELPFUL BOOKS:
ETSY, ETSY www.myyogabooks.etsy.com
I write books to help you in your course. Please download them, and then please use them in answering your modules. Please never imagine that I don't read your modules – I do. If you misquote, I will pick it up. What will you find on ETSY? YAMAS, CHAKRAS, HYPERMOBILITY, THE FIVE TIBETANS AND TEMPLATES and more. There are lots of books there to help you in your progress to graduation. If you do your course WITHOUT reading the hypermobility books, you will find your work being questioned.
PRINTS: HIGH QUALITY Prints of my artwork will be available on etsy as soon as they are available, and on my new art web site when it comes on line.
EMAIL/POST:  Please use the email address  yogafirst@optusnet.com.au  for anything to do with accounts,  or the usual yogafirst@netcon.net.au. to get to me. If you do want to speak to me personally, then email, make a time suitable for both of us, and then we can chat.  If you do it this way, rather than just "wing it", you can be reasonably sure I have time, and you will get my attention.  POSTAL ADDRESS is not at my home –Please address all land mail to PO Box 14, Mt.Macedon.  Vic. 3441.  Until you see a change written here in large letters, that is where it will be.
Don't forget to Register if you are teaching even if you have not graduated (especially if you have not graduated), insure and re-subscribe to the videos every 12 months.   Don't leave these to the last minute.
Love and Blessings
Jahne…….
Newsletter sent out by The Australasian Yoga Institute, www.yogabeautiful.com.au