THE AUSTRALASIAN YOGA INSTITUTE IS MISSION DRIVEN AND MEMBER SUPPORTED. BECOME A REGISTERED MEMBER TODAY.
We are trying to make sense of our emails and phones – it isn't simple.  Please transfer all your account queries to Jacky at yogafirst@optusnet.com.au If you want a direct answer from me, then as usual, yogafirst@netcon.net.au.
THE YOGA OF ART…..
To keep you in the loop. My painting of Buddhas are coming along nicely thank you. I am also planning a number of paintings of WHALES – "THE BUDDHAS OF THE OCEAN".   I started my commercial painting life all those years ago specialising in marine science, and here I am, back again. I have made a full circle. Sometimes people ask me to draw possums. I don't plan doing any more possums – but whales? They are different. They are Buddhas.
The Buddha miniatures below are still being worked on.  But they are getting there.  They will be on-line at ETSY, and they are for sale.  The profits will go to our FOUNDATION.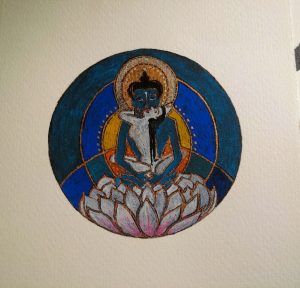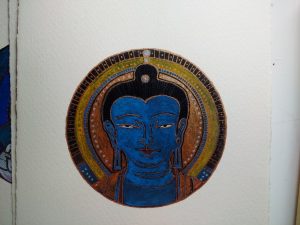 KOMBUCHA CLASS. 
This class was rewarding. I would have liked more participants, but no matter what day and time I organise, students want something different. Or they plan to come, and then something intervenes. I don't really understand that, but it is what it is.  We examined how I made Kombucha, Yoghurt and Tofu.  If you want to join me in a class, tell me when you would like to come…
Saturdays at 2.30 suit me well.  Which Saturday suits you?
YOGA AT THE STUDIO and the Church (and THE FOOD BANK).
Thank you to everyone coming to class. It is so very rewarding.
We have a beautiful yoga class, then a lunch with lots of donated soups and cakes, and then meditation. Between these I encourage my students who need to, to go 'shopping' at the FOOD BANK. We have food, we have students and others who would be helped by the food bank, we just have to bring them together – these week, even baby food. I am now taking bags of food to people, as they are reluctant to use the service themselves, or they can't get there. People, if you don't use the food at the food bank, it will end up as land-fill. You don't need a health card, or any other qualification. We don't take names and addresses, we just trust that you would be helped… or someone you know would be helped. Please use this wonderful service.
STUDIO CLASSES .
Thank you to all my wonderful students who are now coming back to the studio classes. I really do try to prepare the room so it looks warm and inviting, and Charlie purchased and donated some of those little twinkly faux tea lights, which add another glow to the room. Like the Food bank, the more you use it, the more we can provide.
Please keep in mind that the consecutive class passes are CONSECUTIVE. I love a phone call to alert me if you can't come, but that does not mean that the pass will extend for one extra week free. CONSECUTIVE IS CONSECUTIVE.
ART HEALS
I am holding a free demonstration of my work on board with oil pastels at THE ALCHEMIST art shop in Sunbury. The Saturday 13th October at 4pm. Yes, there has been a time change.   Experience the joy of painting and drawing by learning to trust your intuitive self. Painting this natural, gentle way allows you to let go of the inner critic that keeps you away from your full aliveness and creativity. The oil pastels are a way of achieving a quick result, and you get to touch and smooch the medium across the paper. It is like painting with lipstick!
All you need is the desire to paint, and the courage to express yourself. No art experience necessary.
TUESDAYS from7pm- 9pm
COST $250 for 5 classes – we are taking September bookings. We are experimenting with DOT MANDALA technique to add to our new skills.
All materials will be provided.  By the end of the class you will have a unique image to take home, and frame to put in your own meditation room. Maybe good enough, stunning enough to be an heirloom. No painting experience needed. If you are nimble enough to sign your own name, you can do these classes.
SATURDAYS 9am SUMII (ZEN YOGA) BRUSHPAINTING – "ONE BREATH ONE LINE" $20 per session.     This is the traditional painting on rice paper, but once the fundamentals are achieved, with a twist. On the longer classes, we will be doing it the "zen way" and painting things that can't be painted. Love, joy, yoga, spirit, speed…etc etc.   No right, no wrong, just what you can do. Your expression. We will be using traditional materials, we will be doing yoga breathing, AND A PAINTING will be the result.. Grind the ink, use the brush, paint the painting….. Sounds easy, BUT as in yoga, the foundations are everything.
THE ALCHEMIST ART STORE, Sunbury (just around the corner from Aldi in Gap Road. A fabulous store which deserves a visit).
Saturday 13th October at 4pm.
I am doing an in-store demonstration of the techniques I use for Mandala/Buddha painting on wood. I will show you how to prepare the boards, the materials I use and how to use them. Just turn up. No need to book – although you could mention it when you drop in for a visit. Beautiful linen, beautiful framing, French Sennelier pastels, Golden paint range – They stock only THE BEST.
THE LATEST ART SHOW – THE REVELATION TAROT.
SHOWING NOW:  An exhibition and sale of the original tarot cards. This cannot be repeated. If you are unable to come to the show, and would like to buy a framed card, you can, just let me know which is your favourite card and I will put it away for you – all $175 plus postage. You can come and collect it, or I can post it – although they are framed, so not inexpensive to post. Call me to register your interest:   yogafirst@netcon.net.au
"THE BUDDHAS OF THE OCEAN". I started painting Buddhas, and then realized there are a whole lot of great beings that we don't think about as Buddhas, but they are – the Whales are obvious. So I have started a series of Whales.
MY PENDULUM
My ETSY shop sells everything pendulum and this week I am putting up some new pearly ones. You will love them. Pendulums you can carry with you at all times.
Please… if you want a session, WE CAN DO. We have been having terrific PENDULUM Classes at the studio. We can identify additional minerals and supplements, balance your diet, test for food sensitivities…. Health, business whatever. $55 one question, $75 two questions $150 for a general life reading for people who are stuck. On the farm I never made a change without dowsing first. If you want to see if it makes a difference go see what the farm has become without the magic of dowsing – it is a dying jungle.
If you want a life reading, your house made well from underground streams or geopathic stress, or want your garden explored for sculpture, rock or major tree placement sites… I can help you.
If you want a lovely pendulum I have made a few very interesting, unique pendulums and have put them on etsy. www.myyogabooks.etsy.com
Why Register with THE AUSTRALASIAN YOGA INSTITUTE? 
It is about LINEAGE. You trained with us, you are a part of our lineage (or we are a part of yours), Registration supports this. PLEASE, PLEASE CHECK YOUR REGISTRATION. You need to be currently registered for your insurance to be valid, and you will need to supply a copy of a valid registration to be insured.   Please check your insurance requirements – keep up to date. They change quickly.
REGISTRATION – CONTINUING EDUCATION REQUIREMENT.
THIS APPLIES TO EVERYONE.
We have fallen in line with other organisations and ask people who are registered with us and wish to re-register to do at least one short course in the year as a continuing education requirement. You need to keep up. You can do one of my little courses on ETSY, or someone else's, doesn't have to be onerous, just something to keep you on your academic toes so to speak. Just watching a DVD won't be enough unless you actually write a report on what you watched and why you watched it – the outcome – how it changed how you do what you do.
YOGA WITH JAHNE…..CLASS TIMES – all STUDIO classes $20
MONDAY –   Church:  11am Hatha.12pm lunch/1pm meditation (free or by donation)
                       5.30 NEW CLASS! Restorative at the Studio
6.30pm Hatha at the studio
TUESDAY     (NO 6.30 Yoga) 7pm now an ongoing Thangka painting Class held at The Home Studio.
WED.            12.30 HATHA-YOGA                 5.30pm Gentle Restorative at home Studio.                      6.30pm Hatha at the home Studio.
FRIDAY       3pm at the Church                6.30 pm Hatha at the Home Studio
SAT.               9am Sumii ZEN YOGA PAINTING (60min Class), $30 per class, 10am Hatha Yoga.      12.30 Restorative.
MATERIALS FOR PAINTING CLASSES – everything provided.
YOGA COST:
Yoga $20 per Class Or CLASS PASS – $135 per 10 CONSECUTIVE classes for long time students. New students will pay $165 per 10 class pass (normally $200) After 3 years as a student with us, the cheaper rate will apply. Teacher Training is also $20.
UNITING CHURCH CLASSES (FREE or by donation)
Next door to the Police Station, Forest Road, Woodend.
Monday: 11am Hatha Yoga, 12noon lunch and 1pm meditation at Church.
Friday: 3pm Hatha Yoga
PARKING HOME STUDIO – 37 Morris Road, Woodend.
PLEASE, PLEASE Park on white gravel in front of the studio. I had the garden made into an attractive parking lot. When it was lawn you didn't even think about parking on the lawn or the nature strip. Now it is especially for parking, you park blocks away and walk. What is this about? If my park places are full, you can park in the drive-way directly opposite in front of double grey garage rolladoors. Not in front of neighbours driveways please.
MONTHLY TEACHER TRAINING AT THE HOME STUDIO:
The next one will be on Sunday 7th October, 2pm to 4pm  at my home studio (37 Morris Road in Woodend). There is no need to book. Bring writing materials, and be early. If you are teacher Training student then the cost of the afternoon is $20 (to bring it in line with yoga classes). This fee applies to everyone. If you are a visitor and not formally a student teacher with us then the cost is $30 – for a 2 hour class! Come.
BENDIGO Teacher Training classes – Next class is Tuesday 9th October at 3.30pm Turn at the Metricon building on the highway in Kangaroo Flat. It is a traffic light intersection, just up from Bunnings. Crusoeden is the building behind Metricon building, and faces Church Street. It's easy to find. Cost: $20 per class (to bring it in line with the cost of a yoga class) for everyone who attends – thank you. (Directors – Jayne Boyle  – crusoedenbody@bigpond.com).  Regular classes held – please email for timetable.
CLASSES AT OUR AFFILIATE STUDIOS IN EUROA, LYONSVILLE, APOLLO BAY – Pease email me for details.
BEANNIES
Once again I am sending a call-out for beannies. A bit late I know as the next shipment I am told is being sent out to Nepal in November. Please, please get knitting. Don't post them to me COD, best to deliver them in person. The postage can be very expensive, and certainly more than a ball of wool. If you decide to post, make a parcel of knitting from a few people – then it is economical (and sensible).
REALLY HELPFUL BOOKS:
ETSY, ETSY www.myyogabooks.etsy.com
I write books to help you in your course. Please download them, and then please use them in answering your modules. WATCH OUT FOR THE NEXT ONE – NARRATIVE MEDICINE. A certificate course. If you teach yoga, you need this. No excuses.
Please never imagine that I don't read your modules – I do. If you misquote, if you don't understand (no matter how many pages you do) I will pick it up. What will you find on ETSY? YAMAS, CHAKRAS, HYPERMOBILITY, THE FIVE TIBETANS AND TEMPLATES and more. There are lots of books there to help you in your progress to graduation. If you do your course WITHOUT reading the hypermobility books, you will find your work being questioned.
TAROT/TAROT POUCHES/PENDULUMS…. They are on-line. It's like a shop. For the best pieces, and the best deals, you need to go in every now and then and see what stock has arrived. Often only one of things.
EMAIL/POST:  Please use the email address  yogafirst@optusnet.com.au  for anything to do with accounts,  or the usual yogafirst@netcon.net.au. to get to me. If you do want to speak to me personally, then email, make a time suitable for both of us, and then we can chat.  If you do it this way, rather than just "wing it", you can be reasonably sure I have time, and you will get my attention.  POSTAL ADDRESS is not at my home –Please address all land mail to PO Box 14, Mt.Macedon.  Vic. 3441.  Until you see a change written here in large letters, that is where it will be.
Don't forget to Register if you are teaching even if you have not graduated (especially if you have not graduated), insure and re-subscribe to the videos every 12 months.   Don't leave these to the last minute.
Love and Blessings
Jahne…….
Newsletter sent out by The Australasian Yoga Institute, www.yogabeautiful.com.au