I have started dozens of blogs about dozens of things and they have been successful or less successful… some I didn't even get around to more than one post – but it was good to try them out. I have come to the conclusion after 50 years of yoga – YOGA AND TEACHING is what I love.
I still get a buzz when I teach, and I often get the amazing opportunity to teach yoga to 21 tiny 4 year olds. It is amazing, and I love it. I teach them, not because I have to, not because there wasn't anything else in my life (no, I am alone but not lonely), and not because as someone suggested "I couldn't knit", I can. I teach them BECAUSE I LOVE TEACHING 4 year olds or 40 year olds and anything either side – no younger than 2 days – it makes me happy. It is amazing to see how they grow, and how years later, they still come up to me and tell be about their favourite moment in yoga class, or how it helped them achieve a goal.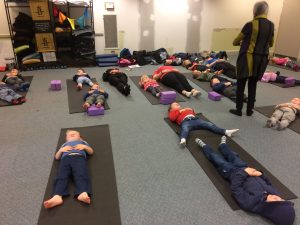 I also like to garden, and to paint, and sometimes to cook although I don't have a regular oven (or a Thermomix).   I wouldn't like to be barnacled to one thing.  I like to do lots of things, and I do.  I think that yoga has evolved from when I first learned (although the evolution to a fitness class i can do without!).  I am taking it further into its evolution to "a part of life", not something that we do once a week.  All the things I love to do are also part of my yoga journey, not just asanas, not just meditation or philosophy.  All theses, each of these make up the frame in which I live my life.
There is a quote from John Lennon that always makes me smile. John was told at school to write an essay on what he wanted to be when he grew up. He wrote "happy". His teachers told him that he hadn't understood the assignment. John told them that they didn't understand life.
This blog will be about MY YOGA. What appeals to me on the day. Gardening, cooking, recipes, and of course MY YOGA. Welcome to today.