Dear Yogis,
Now we have started to gradually undo THE GREAT COVID PAUSE, here at the studio we have started to wind down the ZOOM offerings and the daily newsletters (Which will now be Monday, Wednesday and Friday).
STUDIO/ZOOM MENU
MONDAY: 1pm STUDIO YOGA (fully booked)
TUESDAY: ZOOM 7.30pm SUTRA TRAININGS.
WEDNESDAY: 12.30  ZOOM YOGA, 5.30 STUDIO YOGA (Wait List).  6.45pm ZOOM, TIBETAN YOGA/DIAMOND SUTRA?
FRIDAY: 5.30 YOGA (ZOOM or STUDIO – I am waiting for expressions of interest), 6.45 TAROT/PAINTING/BOARDS
SATURDAY: 12.30 ZOOM YOGA, 2pm TAROT TRAINING, MAKING, PENDULUMS
SUNDAY:  10am BHAGAVADGITA ZOOM
If there is a class you want please let me know.  
If you want studio or zoom, let me know.  This menu can change – this is what it looks like TODAY.

There will be changes.  The FREE Friday class may change in November.  I want to teach from the beginnings.  First pencil and perspective, then still life, then colour and so on.  The yellow board to the left is the start of my new Pendulum Board painting.   The yellow says a lot.
The "BLUE LADY STUDIO".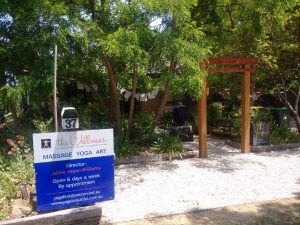 About 20 years ago one of our students donated to the studio a beautiful full size statue of a lady painted an impossibly beautiful blue.  It became a land mark. Everyone in the town knew the statue, and all I had to say was The BlueLady Studio and they knew where I was.  Even the local information centre used to send tourists to us as we had the only available and photographable statue in town.  Last year "The Blue Lady" crumbled to nothingness, and now I am looking for the artist who carved the statues in Bawden Road.  Noah……..  He can carve a lady into my Japanese gate.  It would be fabulous.  Please direct him to me, or give me his name if you remember it.
I am finding more and more opportunities to paint, and teach painting (which my yoga practice enhances – I can't do one without the other), and when it came to a logo for myself (I need a "logo" to help me think about this part of my life), I chose the name "THE BLUE LADY".  It feels right.  Because I have relaxed into it I have given one of my web sites an alias.
So if you want to look SPECIFICALLY at what is happening in art in my life, then please go to blueladystudio.com.     I have put the start of my work there, but I have lots to lock and load.
INTERSTELLAR
Last night whilst painting boards, cutting and pasting, I was sort of watching "INTERSTELLAR".  The further the movie moved forward, the more interesting it became.  Especially the last half hour when different levels of reality and different universes were explored.  It is hard to do, a difficult concept to explore and they did it passably well.
In the 'GITA we learn that the universe consists of upper, middle and lower worlds (3.22, 11.20 and 15.17) with the Earth being a middle  planet which Krisna calls The Human World (11.38, 15.2).  By Karma's laws,  good acts raise us to higher states, passionate acts keep us where we are, and dark acts drive us down to lower states (14.18).
We experience these different states in different lives.  God never gives up on us.  We have many chances to learn that we are spiritual being and our real home is not anywhere in this transient universe.    We keep trying to understand, birth after birth, world after world until we return to our final home.  WE should not be lazy, since each new body entails the flaw of "birth, old age, disease and death", which we experience over and over until we learn to value spiritual freedom.
We can free ourselves, so why don't we make that choice?   Imagine being a passenger in the airport.  You are biding your time in  the transit lounge, and you are so engrossed in the stuff on offer at the shops, bar and the cafe, that you miss the plane.  Like on earth, you have forgotten your real goal.  Instead of discovering your real path, you have been caught up with distractions, diversions.
SEE YOU ON THE MAT.
NAMASTE – JAHNE