JAHNE IS AVAILABLE FOR MASSAGE 6 DAYS A WEEK (no Thursdays)
Weekends and late appointments available..    
BOOK NOW – yogafirst@netcon.net.au   
We are able to help our clients with a number of RELAXATION techniques.  HYPNO-MASSAGE, PPT,  Hot-Stones, Gua-Sha (spooning), and gentle long stroke relaxation technique – all with Jahne's unique oils, lotions and potions.  When the muscles are relaxed and the client in a calmed frame of mind, healing can occur.  We believe that the body is a "self healing mechanism", but this healing is hard to achieve in the midst of a fast paced modern life.
Should you wish to make a booking for any of our therapies, please email Jahne:  yogafirst@netcon.net.au
HYPNO-MASSAGE THERAPY :  Integrative Balancing of Mind & Body
Having been a masseur now for almost 50 years, and a Past-Life Therapist for about 30 (how time flies), I have found when you combine the therapeutic health benefits of massage therapy with the powerful healing qualities and life changing aspects of hypnosis/deep relaxation, you achieve the ultimate state of enhanced relaxation and concentration in which the deeper parts of the mind become more accessible, and true healing and self-discovery occur. It works, it is easy, it makes great sense.
WHAT IS HYPNO-MASSAGE THERAPY?    Hypno-Massage therapy integrates therapeutic hypnotic suggestions with the gentle healing components of long stroke massage therapy to most effectively enable the body to rid itself of negative, underlying blocks and enter a path of rejuvenation and revelation.  I incorporate essential oils to boost the effectiveness of the technique.
HOW IT WORKS.    As you are experiencing the long, relaxing strokes of the massage, hypnotic suggestions are incorporated, as a deeper relaxation of the mind-body is induced. This allows the subconscious to be more focused and open to powerful therapeutic suggestions. Throughout each Hypno-Massage therapy session, you are awake and aware, yet deeply relaxed.
IS HYPNO MASSAGE FOR YOU?   Sometimes old injuries may still be locked in the "muscle memory" of the body, preventing healing, if not in this lifetime, then maybe the previous one and brought forward (it does happen). The unique combined practice of Hypno-Massage helps clear memories of injury and speed healing.  Hypno-Massage Therapy enables clients to experience a deep relaxed state and cleanse themselves of past emotional trauma, release unresolved physical pain and simply feel lighter both physically, mentally and emotionally  sharper/clearer.
BENEFITS: Reduces anxiety and stress, assists mind/body healing and pain management.  Can alleviate IBS, and High Blood Pressure symptoms.  Can assist in weight control, insomnia, self-esteem and confidence..
Prior to the session a consultation allows the session to be tailored to your needs so that you can achieve the greatest benefit from your hypno-massage session with us.  Flor clients on a spiritual path, we can incorporate guided meditation sessions for self discovery on a spiritual level.
PAST LIFE HYPNOTHERAPY – If you want to go further in your journey – maybe understanding your role in life, what you do what you do, if you are suffering  and why,  then a PAST LIFE session may be for you.  Jahne is a trained PAST LIFE THERAPIST with QHHT personally trained by the Late Dolores Cannon.  A PLP session takes about 2 hours, and costs $250.  Please email Jahne for an appointment. yogafirst@netcon.net.au
GUA SHA (Chinese "spoon massage")
According to my teachers in the Thai Buddhist forest monk medical tradition (known as wandering monks),  three gurus passed on the herbal medical traditions.  Buddha, Jivaka and Phra Rishi a hermit who lived in the jungle.  Jivaka began the lineage of treatment protocols. This body of knowledge with forest monk adaptations included GUA SHA, herbal medicine, acupuncture, cupping, massage, diet, heat and steam therapy – applying heated rocks to the body (we know this as "hot stones massage").    These therapies were taught to the villagers as the monks passed through their towns so that they could care for their community.  There may be some differences between the disciplines of Thai monks and their Chinese counterparts, however their nature and purpose were essentially the same – commitment to health,  understanding of the disciplines, and their dedication to service.
Gua-Sha, (an addition to our massage menu) is especially good for head and neck relief, and is performed throughout Asia, where it is especially popular in China, Taiwan, Vietnam, Cambodia, Laos and Indonesia.  You may know it as "spooning" as in Traditional Chinese Medicine where ceramic spoons can be used.  The word Gua-Sha has two characters.  "Gua" means to rub or to scrape and "Sha" is the discolouration of the skin that appears on the surface after treatment.  Gua-Sha therefore means 'to rub out Sha", thereby releasing blockages.
Like many traditional practices, Gua-Sha was probably performed long before its 700 year recorded history.
Performing Gua Sha is one of the quickest, easiest and surest way to alleviate many ills.  When pain or illness is restricted to a limited area, then gua sha can be applied locally.  It can be done over the whole body to strengthen and circulate energy.    It is especially useful to disperse colds and flu, persistent chronic headaches, tiredness, fatigue, muscle aches and injury.  Do come and have a Gua-Sha treatment with Jahne.  It is not invasive, and although we usually include it in our relaxation full body massages, if you are pressed for time, or would like to come during your lunch time, this technique can even be used for a shorter relaxing and freeing massage especially for head, neck and shoulders. .  Please email for a booking.  We are even available after hours and on the weekends. E:yogafirst@netcon.net.au
Bring the tag from your massage spoon (given out in recent promotion) for $10 off your first massage.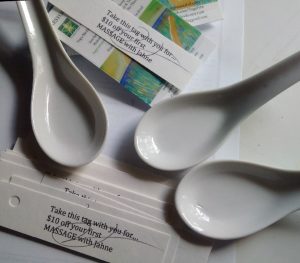 If you want to experience a massage with me, please look at the times I teach yoga
and work out a few possibilities and we will make a time around that which will suit us both.
EMAIL: yogafirst@netcon.net.au