JAHNE IS AVAILABLE FOR MASSAGE 6 DAYS A WEEK (no Thursdays)
Weekends and late appointments available..    
BOOK NOW – yogafirst@netcon.net.au   
We are able to help our clients with a number of RELAXATION techniques.  PPT is the star, then there is Hot-Stones, Gua-Sha (spooning), and gentle long stroke relaxation technique – all with Jahne's unique oils, lotions and potions.  When the muscles are relaxed and the client in a calmed frame of mind, healing can occur.  We believe that the body is a "self healing mechanism", but this healing is hard to achieve in the midst of a fast paced modern life.
According to my teachers in the Thai Buddhist forest monk medical tradition (known as wandering monks),  three gurus passed on the herbal medical traditions.  Buddha, Jivaka and Phra Rishi a hermit who lived in the jungle.  Jivaka began the lineage of treatment protocols. This body of knowledge with forest monk adaptations included GUA SHA, herbal medicine, acupuncture, cupping, massage, diet, heat and steam therapy – applying heated rocks to the body (we know this as "hot stones massage").    These therapies were taught to the villagers as the monks passed through their towns so that they could care for their community.  There may be some differences between the disciplines of Thai monks and their Chinese counterparts, however their nature and purpose were essentially the same – commitment to health,  understanding of the disciplines, and their dedication to service.
Gua-ha, (an addition to our massage menu) is especially good for head and neck relief, and is performed throughout Asia, where it is especially popular in China, Taiwan, Vietnam, Cambodia, Laos and Indonesia.  You may know it as "spooning" as in Traditional Chinese Medicine where ceramic spoons can be used.  The word Gua-Sha has two characters.  "Gua" means to rub or to scrape and "Sha" is the discolouration of the skin that appears on the surface after treatment.  Gua-Sha therefore means 'to rub out Sha", thereby releasing blockages.
Like many traditional practices, Gua-Sha was probably performed long before its 700 year recorded history.
Performing Gua Sha is one of the quickest, easiest and surest way to alleviate many ills.  When pain or illness is restricted to a limited area, then gua sha can be applied locally.  It can be done over the whole body to strengthen and circulate energy.    It is especially useful to disperse colds and flu, persistent chronic headaches, tiredness, fatigue, muscle aches and injury.  Do come and have a Gua-Sha treatment with Jahne.  It is not invasive, and although we usually include it in our relaxation full body massages, if you are pressed for time, or would like to come during your lunch time, this technique can even be used for a shorter relaxing and freeing massage especially for head, neck and shoulders. .  Please email for a booking.  We are even available after hours and on the weekends. E:yogafirst@netcon.net.au
Bring the tag from your massage spoon (given out in recent promotion) for $10 off your first massage.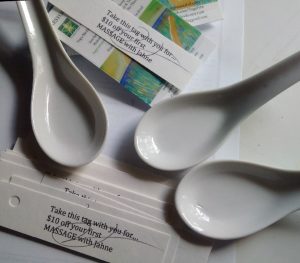 MASSAGE TRAINING – ARE YOU LOOKING FOR YOUR PURPOSE IN LIFE?
Have you always thought about becoming a massage therapist?   Not one of those who mindlessly thumps and grinds bodies, but a therapist who by understanding the body in front of them is able to effect profound change….  It could be you.
I have been doing a  PychoPhysical Massage Therapy (PPT), a method of my own devising for more than 30 years, bleeding it with other methods and modalities depending on the client.  It is an art, not just a job, and I can teach you.
ABOUT THIS COURSE:  One personal training session  per week for four weeks, plus home study component.
WHAT YOU WILL LEARN:  Anatomy and physiology for massage therapists, the philosophy, the basic moves, the basics of PPT, Western and Tibetan methods, Breathing, massage and the law, starting a business and marketing.
COST: Cash – $675 for the course  or Time payment:   $75 deposit and 3 payments of  $210
CERTIFICATION: On graduation you will be registered with The Australasian Yoga Institute (Massage Alliance), and be able to be insured via our specialised Professional indemnity insurer, AON.
VENUE: Spirit Gate Studio, 37 Morris Road, Woodend.  (Look for the Buddha and the flags).  Park on the white gravel – it is there for you.
NEXT START DATE: Tuesday 22nd October 2019. 7pm to 9pm
ENROL AND PAY: contact me via E: yogafirst@netcon.net.au and I will send you the form.  You can always email to  make a time when I can ring you and we can chat.  
"Do not apply to join us unless you want to be the best"  Jahne
If you want to experience a massage with me, please look at the times I teach yoga
and work out a few possibilities and we will make a time around that which will suit us both.
EMAIL: yogafirst@netcon.net.au