DEAR YOGIS,
Another few days has past and more to go before we can unlock our doors... Although I did have a visit from my "bubble" person yesterday.  I so enjoyed it.  Because I am busy all the time I didn't know how much I missed company.  Now I do, However, until lock down is relaxed, I am confined to the bubble.
ZOOM SCHEDULE
STUDY:  Friday 6.45 Tarot, Sunday 10am CCP Study, Monday 6.30 Teacher Training, Tuesday 7.30 CCP Repeat.
YOGA CLASSES ON ZOOM: Monday 1pm and Wednesday 5.30
FUNGI/HERBALS…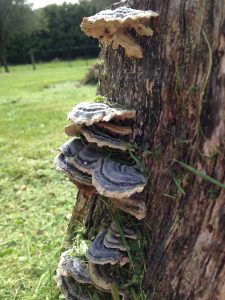 As you all know, sourcing has always been a huge focus of what I do.  I don't have a huge menu of herbs and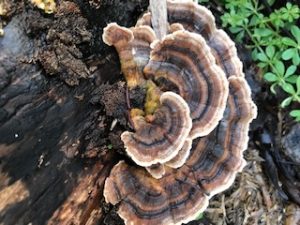 fungi that I stock and sell  especially as I forage and make many of my herbals.  Sustainability and longevity of my herbal practices are a priority.  This also applies to the few fungals, oils and herbals I stock from other suppliers. Because I follow the seasons it's hard to guarantee a sustainable supply. I am still a one-person business after all.
I have always had the policy that I would stop sourcing a herb from the wild if it became unsustainable whether that was an overseas source or here at home.
This can be annoying to me and to my clients however,  we're obviously super grateful to the CITES organisation for preventing people from trading in these rare, wild herbs and ensuring their ongoing protection.  (The photo on the right is Turkey Tail growing in my yard this year and on the left in a local garden last year).
And so, we welcome a new batch of Turkey Tail.  Remember that Daoist herbalism is about the energy of the herb and formula, not the isolated herb's chemistry.  I take Turkey Tail every day, and we have a dedicated band of folk who do this, which is important this time especially considering that this fungi focusses on the immune system, and respiration.  Please go to "Ted Talks" on YouTube and to the film "FANTASTIC FUNGI" on Netflix to review the work of Paul Staments who is the go-to guru of fungi, especially Turkey Tail.
TURKEY TAIL:  $35 for 22 grams includes postage.  This is not a dead, dry powder, but a mix that comes alive when you spoon it.  It is rich and crumbly.. just like you would expect a mushroom to be.
ORGANIC REISHI SPORE OIL:  $25 including postage.  Not many left – we can put you on back order.   What an amazing fungi this is.  Reishi spore oil is a concentrated supplement form of reishi mushroom. There are many great nutritional compounds present in the reishi spore oil. Reishi mushrooms are rich in triterpenes, beta-glucans, polysaccharides, antioxidants, enzymes and ergosterol.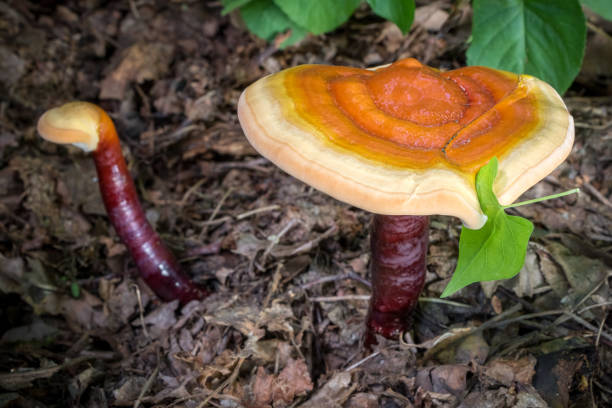 Reishi Spore is oil produced from carefully selected high quality organic Duanwood grown Reishi spores. It is rich in Ganoderma Lucidum (Reishi) Triterpene, Ganoderma Lucidum acid, unsaturated fatty acid, and organic selenium. Our Reishi is grown organically in the mountains in China and extracted in a GMP certified facility. It is tested via hplc for purity after manufacture and is EU and USDA certified organic.     1000 kg dried Reishi fruiting bodies (mushrooms) produces approximately just 1 kg of spores, it then takes over 1000 kg of spores to produce only a few kilograms of spore oil. The Reishi Spore Oil is 30% triterpenes so each 50ml bottle contains 15ml triterpenes.
If you are no close by a naturopath or herbalist to help you, try these fungi.  They are not FDA tested to cure anything and certainly speak to your therapist if you are hesitant.  In the meanwhile access the talks of Paul Staments.  If you would like to try these, please email me to enquire, especially about availability yogafirst@netcon.net.au.  With Covid and lock-downs my students are more self-help centred as nothing much else is available to them.  I have been using these fungi for a number of years.  I am my own experiment – if a herb or fungi doesn't work for me, or if I don't feel a difference, I don't pass it along to you.
SIMPLICITY (Again)
Simplicity is more than a mere reaction to the modern crises.  Whilst simplicity provides an answer, it does not provide an EASY answer.  Both Christian and Yogi simplicity lives in harmony with the ordered complexity of life.
Simplicity is a grace, because it is given freely.  It is also a discipline because we are called to do something.  What we DO does not give us simplicity, but it does put us in the place where we can receive it.
SIMPLICITY IS AN INWARD REALITY WHICH CAN BE SEEN AS AN OUTWARD LIFESTYLE.  We must have both.  One without the other can be a disaster.  It is all about balance.
SEE YOU ON THE MAT.
NAMASTE. JAHNE
.