THE AUSTRALASIAN YOGA INSTITUTE IS MISSION DRIVEN AND MEMBER SUPPORTED. BECOME A REGISTERED MEMBER TODAY.
THE INSTITUTE.
Over the past few months, people who have not contacted me for a long time, years, suddenly popped back sending modules in the post (with no covering letter, no sorry, no explanation) and expecting everything to be as it was 4, 5 and sometimes 9 years ago! Whilst I encourage and applaud their new found enthusiasm they have misunderstood what a school at this level is and how it operates. It is not a charity. The Institute teaches yoga BUT IT IS A BUSINESS and that is how we manage to keep on teaching.
I keep saying that if you don't keep communicating, your file will be archived – and there is a cost to start up again. And I mean it.
In most cases these students have already started teaching (?) without the value of Registration or Insurance. This is against everything that we teach. I have spent my whole life working to enhance the value and status of our yoga teachers, and if you go out and teach without the benefit of knowledge, without Registration which joins you to the Sangha, and without insurance which protects you from the unforseen, then you are cutting across everything that we as a school stand for. Think about it please. Don't expect me just to smile and let you drop in and drop out whenever you like. If you don't communicate with me, I will consider that you have dropped out, and there will be a charge to drop back in.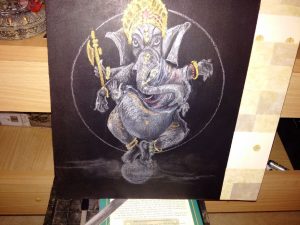 This is a drawing of Ganesha, "the remover of obstacles".  I think that a few of us have obstacles that need removing.
A SCAM
I am sorry to have to bring this to you, but there is a scam going around. When it came my way I felt there was something wrong with the request from the get-go. A person emailed asking for two classes per week for 6 weeks for 5 people. The wording was odd, but the person said they were not well, and wanted these classes for a pre-wedding party. They wanted the girls to be fit and well and feeling good. A limo would bring them to my address. I thought I would ask for premium rates+ to see if they were serious. They didn't blink an eye.
This is where things get interesting. They wanted to pay by credit card BUT wanted me to charge the money for the classes PLUS THE MONEY FOR THE LIMO which was substantial, and give the money to the limo people myself. Apart from the fact that they were reluctant to give me identifying details, and when we checked, the ABN of the bus company was incorrect, THE WHOLE DEAL IS ILLEGAL. It took quite a few emails before she went away. I have wasted my time – don't waste yours. If the deal doesn't "smell right" as Poirot would say – back off. If it kwacks like a duck, if it looks like a duck, it probably is a duck.
TEACHING TO THE REHAB. AND RECOVERY COMMUNITY
My idea is to begin by teaching at post graduate level to one SENIOR TEACHER (graduate) from each state if possible. We can expand from there. This work is increasingly my focus and I am inviting you to join me.
Even yoga teachers who think they haven't experienced addiction need this teaching, as at the present the statistic is that 60% of the population are addicts. Hard drugs, prescribed medications, alcohol (a "biggie"), nicotine. So 6 out of 10 people standing in front of you have the possibility of being addicted. Even if you can't see this, even if you can't recognize what is in front of you they need special help, special understanding – people don't wear placards saying "I am an addict – please help me!".
Do you want to help? I will be training you to help you, to help them. An amazing mentoring style course.
PAINTINGS, PRINTS, TAROT AND HIGH TEA.
This exhibition allows me to teach pro-bono to the rehab community, and give out scholarships… It is not just painting for the sake of painting.
I am continuously changing the exhibition. Please hop in to Reds in Woodend. I will keep you up to date when prints of the work are loaded on the ETSY site… (I am having them professionally photographed this Thursday). Remember, everything you buy does help a student learn yoga, or train to be a yoga teacher, and maybe helps me to be able to give out scholarships – and I don't put anything on the site that isn't useful (or beautiful). www.myyogabooks.etsy.com.
The next show will be a "HIGH TEA +Tarot" to herald the release of my new "silk finish" Revelation tarot deck and new Buddha/Angel Meditation prints. As usual it will be at Reds Restaurant in Woodend, and probably at the end of July. We haven't settled on an exact date yet. There will be a cost, you will have to book for the high tea although the exhibition will be open to all.
A Tea Leaf reading will be included in the price of the High Tea. Remember when I used to do it every day at my little café/yoga room – Mt.Macedon Tea Rooms. People came from all over to get a reading, it was fun, it was good..   On this occasion a Tarot Reader will be available. This Tarot reading is NOT included in the price, and you will need a separate booking.
Why Register with THE AUSTRALASIAN YOGA INSTITUTE? 
No matter what your field of study you need to register to be "legal".  If you are a Doctor, physio, hairdresser. Their Registering bodies require it,  and will stop you practising if you don't keep it up annually.  You trained with us, you are a part of our lineage (or we are a part of yours), Registration supports this. PLEASE, PLEASE CHECK YOUR REGISTRATION. You need to be currently registered for your insurance to be valid, and you will need to supply a copy of a valid registration to be insured.   Please check your insurance requirements – keep up to date. They change quickly.
It took me years to get the Institute's profile up, and its status recognised so that your registration means something… and it does.  By not registering you are saying that your and your Institute (us) are not worth acknowledging as professionals.
REGISTRATION – CONTINUING EDUCATION REQUIREMENT.
We have fallen in line with other organisations and ask people who are registered with us and wish to re-register to do at least one short course in the year as a continuing education requirement. You need to keep up.
You can do one of my little courses on ETSY, or someone else's, doesn't have to be onerous, just something to keep you on your academic toes so to speak. Just watching a DVD won't be enough unless you actually write a report on what you watched and why you watched it – the outcome – how it changed how you do what you do.
YOGA WITH JAHNE…..
CLASS TIMES – all classes $20
MONDAY      11.30 Northcote with Ling (Gentle Hatha) Not open public hols.
6.30pm Hatha with Nic at The Bentinck
TUESDAY     7pm Hatha at The Bentinck (I am trying out this time frame)
WED.           12.30 Trainee Teachers class at The Home Studio ($20) 5.30pm Gentle Restorative at The Bentinck  6.30pm Hatha at The Bentinck
FRIDAY         6.30pm FREE COMMUNITY MEDITATION CLASS.   Meditation/Relaxation at The Bentinck. props provided.
SAT.              10am Hatha The Bentinck   12.30 Restorative at Home Studio
SUNDAY       5pm at the Bentinck
MASSAGE:
A Healing Massage with Jahne can be had between Yoga Classes (at The Bentinck) by appointment only – even on weekends.
Mon/Tue/Fri 4pm and 5pm Saturday 2.30, Sunday 4.30pm
COST:   Yoga $20 per Class Or CLASS PASS – $135 per 10 CONSECUTIVE classes.
Teacher Training, etc $20     Massage: 85 per session
THE BENTINCK – on the corner of High Street and Romsey Road, Woodend.
Enter ONLY through the Romsey Road gate where you see the yoga sign.
Do not park in the front of the Bentinck. The main two story building is NOT The Yoga Centre.
HOME STUDIO – 37 Morris Road, Woodend.
Park on white gravel in front of the studio, or in the drive-way directly opposite in front of double grey garage rolladoors. Not in front of neighbours driveways please.
NORTHCOTE: 9 Langwells Pde. (near Aldi).  Ling will be taking over these classes, she is our trainee yoga teacher.
Plenty of parking at Aldi. FREE 2 Hour park, or All Day nearer the Police Station at the back.
MONTHLY TEACHER TRAINING AT THE HOME STUDIO:
The next one will be on Sunday 1st July, 2pm to 4pm  at my home studio (37 Morris Road in Woodend). There is no need to book. Bring writing materials, and be early. If you are teacher Training student then the cost of the afternoon is $20 (to bring it in line with yoga classes) (which applies to everyone. If you are a visitor and not formally a student teacher with us then the cost is $30 – for a 2 hour class! Come.
BENDIGO Teacher Training classes –Next class is Tuesday 3rd July at 3.30pm Turn at the Metricon building on the highway in Kangaroo Flat. It is a traffic light intersection, just up from Bunnings. Crusoeden is the building behind Metricon building, and faces Church Street. It's easy to find. Cost: $20 per class (to bring it in line with the cost of a yoga class) for everyone who attends – thank you. (Directors – Jayne Boyle  – crusoedenbody@bigpond.com).  Regular classes held – please email for timetable.
Picture: Myself, Jacinta Torres-Gomez our newest graduate and Jayne Boyle her mum (also a graduate and Affiliate) at our Bendigo Class.
CLASSES AT OUR AFFILIATE STUDIOS IN EUROA, LYONSVILLE, APOLLO BAY – Pease email me for details
NEW ADDITIONS TO THE SHOP AND ETSY.
I write books to help you in your course. Please download them, and then please use them in answering your modules.
Why haunt libraries for information on the chakras, yamas, and other yoga philosophies relevant to the course (or The Tarot). It is all on ETSY. We do plan to update our shop (and the prices) with the new web update, but we will never be able to offer the options and service of etsy which has millions of customers.   For you who have never used ETSY please visit. It is fabulous and oh so EASY.   You will find all our books, our DVD's and CD's on ETSY.   (The Paul Grilley DVD's are on our web site shop). Please go to www.myyogabooks.etsy.com. Or www.yogabeautiful.com.au. for the Paul Grilley DVD's (price about to go up as the exchange rate gets more difficult). If you are new and haven't read about YAMAS, CHAKRAS then I have distilled them for you. Go to the Etsy site as above and have a look – especially at the new book and DVD on Hypermobility..
Affirmation (repeated by request)
Everything I have lived through has a story to share with me. I accept the wisdom of each story, and understand it is not necessary for me to enjoy the story.
I heal by allowing myself without judgement to fully experience all the emotional energies of my being. I observe and participate without the need to judge or interpret them. Every one of my experiences has a gift within them, and I gratefully accept them as contributing to my growth and forward movement in life.
This new work is based on the tibetan word for "Loving-Kindness".   I think it would look lovely in a meditation room. I am releasing prints of this at the end of the month at the next exhibition and launch.
EMAIL/POST:  Please use the email address  yogafirst@optusnet.com.au  for anything to do with accounts,  or the usual yogafirst@netcon.net.au. to get to me. If you do want to speak to me personally, then email, make a time suitable for both of us, and then we can chat.  If you do it this way, rather than just "wing it", you can be reasonably sure I have time, and you will get my attention.  POSTAL ADDRESS is not at my home – Please address all land mail to PO Box 14, Mt.Macedon.  Vic. 3441.  Until you see a change written here in large letters, that is where it will be.
Don't forget to Register if you are teaching even if you have not graduated (especially if you have not graduated), insure and re-subscribe to the videos every 12 months.   Don't leave these to the last minute.
Love and Blessings
Jahne…….
Newsletter sent out by The Australasian Yoga Institute, www.yogabeautiful.com.au