GOOD MORNING YOGIS,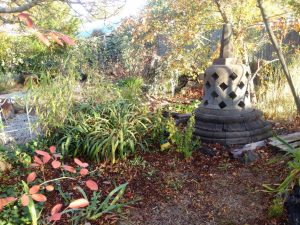 It's a Woodend winter morning and as usual the sun peeked its head out for about an hour in the middle of the day – but that was enough.  After that we had a collection of weathers.  Read, "almost" snow, windy periods where it didn't feel too bad.  I start my day in my garden, especially now I have a small wood heater and have to tend her first thing, and get the wood in for the day.
I wander through the garden, favorite mug in hand, snipping a bit of lemon balm (Melissa officinalis), rose petals, and catnip (Nepeta cataria). Of course, I can't forget to pick some yarrow (Achillea millefolium) and nettle (Urtica) on the way . I bring the mug back indoors and take advantage the water boiling on the wood heater. Once ready, I pour the boiling water over my freshly gathered herbs and steep for 10 minutes before enjoying. This is my ideal morning.
My garden has slowly morphed from a traditional kitchen garden filled with an abundance of vegetables into a tea garden. What many think when they hear about a tea garden is a patch of land filled with traditional tea plants, Camellia sinensis is just one example. However, for me, it is a garden filled with a multitude of herbs and medicinal plants.
I have always grown herbs alongside my vegetables. If you are very sensitive to using sprays, my go-to is the natural way – although this takes longer for us to see the plants at work.  They not only keep garden pests away, but they can also help your vegetables grow in greater abundance. One example of this is growing basil next to your tomato plants to improve your yield, repel insects and disease, and improve the flavor  – it can't keep the frosts at bay however.  I can't grow basil in the cold here, but I do have Greek Basil, and Lebanese Cress.   As the years go on, I find myself adding more herbs with less and less room for the vegetables. This year I started a second garden for my vegetables, plus two new raised garden beds so that most of my  garden could be dedicated to my beloved herbs with a few veggies and pollinator-friendly native flowers here and there.
These are the plants you will find growing in my tea/herb garden: 
*Lemon balm (Melissa officinalis) *Rosemary (Rosmarinus officinalis) * Rose (Rosa) * Nettle (Urtica dioica) * Echinacea (Echinacea) (Planted but not up till spring) * Yarrow (Achillea millefolium)  * Catnip (Nepeta cataria) * Blue vervain (Verbena hastata) – Spring * Chamomile (Matricaria chamomilla) – Spring * Peppermint (Mentha piperita) * Basil (Ocimum basilicum) – Greek and Lebanese * Dill (Anethum graveolens) * Red clover (Trifolium pratense) * Sorrel (Rumex acetosa) * Clary sage (Salvia sclarea) * Thyme (Thymus vulgaris) * Borage (Borago officinalis * Lemon verbena (Aloysia citrodora) * Calendula (Calendula officinalis) * Nasturtium (Tropaeolum majus) * Chrysanthemum (Chrysanthemum morifolium) * Mugwort (Artemisia vulgaris) * Herb Robert * Valerian * Watercress * Fat Hen * Chives (Allium schoenoprasum) * Blue sage (Salvia azurea)  * SouthernWormwood (Artemesia) * Dandelion * Yellow Dock * Gentian * Scleranthus  and other "Bach Flowers" not available until spring
It's truly hard to pick favorites, but if I had to pick only five they would be Herb Robert, Nettle, Dandelion, Yellow Dock and Yarrow.  I use these every day throughout the year.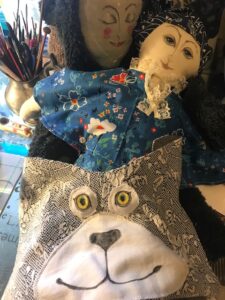 ART – MAKING CHILDREN'S COMPANION DOLLS
I have been working on a number of projects.  I think I am finished "Queenie" a large adult doll, and I am part way through a 4ft tall children's companion doll (a big cat-like cuddle baby) four feet high.  I love making big, big dolls, and will show you once I have got the dolls looking presentable.  I am already planning the next which I think will be an angel and I am already gathering the materials to make her, all whites, and ice cream colours, net, voile, calico and so on- ethereal.
MIDNITE MINIATURES.
In the evening I paint, and have been involved painting the night sky on the birth month and year (day if possible) of my favourite people.  I finished the sky for the Dalai Lama last night (6th July, 1935).  If you want  a miniature made of the night sky on the month you (or you favourite person) were born, then I paint in mixed media on a tea-bag and post ready to frame.  Just send me time day and date of your birth, and I will do the night sky for that date.  Sometimes I can only get as close as the month and the year, not the day – the older you are the less technology was available at the time.  I can do special orders for a family set.  It is a special gift, a one-off original…..  You can of course wait for the CHRISTMAS IN JULY OPEN STUDIO and see the collection of Dolls and miniatures, and other things I have done over the past 6 months.
OPEN DAY – CHRISTMAS IN JULY
I plan to have a Christmas in July open day in my studio on the 17th July, complete with champers and mince pies.  I will send out an invite, however, if you want to get in first and be sure of an invitation (it will be just by invitation), please let me know.
CURRENT STUDIO/ZOOM SCHEDULE: (Studio Yoga – Mondays and Wednesdays at 1pm are Full)
WEKLY STUDIO/ZOOM SCHEDULE  (PLEASE BOOK AHEAD – NO YOGA STUDIO DROP-INS, sorry)
ZOOM: Mon. 6.30 FREE OF CHARGE Teacher Training/Gita, Tues. Herb workshop 7.30, Friday 6.45 Tarot –  $50 for 4 Friday classes.
STUDIO YOGA:Mon. 1pm (full) 2.15pm, Wed. 1pm Restorative(full),2.15 Friday 1pm, 2.15 Hatha,  SATURDAY 1PM, 2.15 RESTORATIVE or HATHA YOGA.
CONSULTATIONS: Tarot/Bach/QHHT HYPNOTHERAPY, Bowen or a combo – by appointment only.  $85 including remedy (including postage if zooming)  Past-Life (QHHT taught by Dolores Cannon) $250 via email or in the studio.  The reading includes Time, date, place of the prior life. To discuss,  email  yogafirst@netcon.net.au
TEACHER TRAINING VIDEOS:  Unfortunately there appears to be a glitch in the videos – some can read them, some students can't, so we have discontinued their use as they have been difficult.    I have a USB with them all on, and I will be sending this in lieu of the videos to all NEW students.  This may prove to be a better option.
MONTHLY LUNCHEON:   Thursday 30th June at 12noon at "The Vic" in Woodend (If you are running a bit late, relax, it's OK – drop in for dessert.  We have the meeting room, so it is separate and quieter).  Please let me know if you can join us.  We will post an invite closer to the day.   RSVP PLEASE
WEEKLY MEETINGS:  We have free Teacher Training zoomed on Mondays, and we began our yoga teacher asana class/meeting in the studio WHICH WE HAVE ORGANISED FOR EVERY SECOND SUNDAY BETWEEN 2 and 3pm.  NEXT STUDIO TEACHER TRAINING CLASS Sunday 19th June.
I WILL SEE YOU ON THE MAT.
NAMASTE – JAHNE