Dear Yogis,
What a fabulous Christmas!  I hope you all had a wonderful Christmas too.  Apart from the Drop-in-Day nothing was really planned.  I just let it be what it needed to be. I am learning to do this.
Yesterday was very surprising.  Life becomes what it is meant to be when we leave things in God's hands. I had a typical Boxing Day lunch after a long, long walk.  Then a sing-song a round the pianola – nothing you would like I think, Joplin, the songs of the 1940's (Astaire and Rogers).  I have promised that next time I will wear chiffon and dance,  all I need to do first is find Fred.  Later we had a recital around a beautiful concert Grand Piano – and I met Tilly, the Being which accompanies (inhabits) this beautiful and very old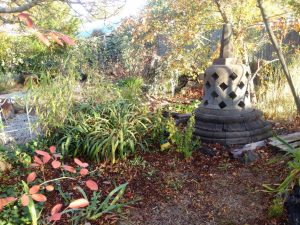 instrument.
The day wasn't over even then, we walked around one of the old Mt.Macedon Gardens, green, lush and silent.  The weather was perfect and the day sublime. – The view was better than any McCubbin,  reaching out and over Mt.Macedon foothills,  encompassing Hanging Rock,  The Jim-Jim and into infinity over the Cowbaw. I managed one photo suitable to make a lino cut.
Later in the afternoon we finished the day at my place on the deck with Gin-and-Tonics sans gin, plus cheese and biscuits, then trimmed a tree (after the fashion of Monty Don) which had spread its wings a little too far.
What a day!  Later in the week it seems we are going to the Atisha Buddhist Centre to see The Great Stupa (The one in the picture is in my garden). I could not have designed a better day… this is what happens when you take your hand off the wheel, and say OK to God's Plan for you.
THIS IS MY NEW YEAR'S GIFT YO YOU…
Remember – God knows your secrets and loves you anyway.  Sins are just a failure to choose goodness, and they have a way of punishing  us when we ignore them. In every moment of every day goodness is a choice.   Every moment is a moment to make a good choice – a moment to think a good thought and to act on it.  God's great blessing is that in every moment we can create ourselves again.  Now is the time for you to make a choice.
Namaste.  Jahne